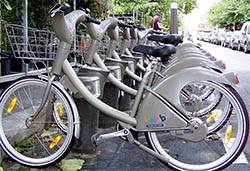 Since July 2007, Parisians have been taking advantage of Vélib (from the French vélo en libre service), the city's new eco-friendly shared bike service that makes it easy to forego fuel-eating cars for something kinder to the environment in Paris.
The public bike rental system is (almost) free, and has become the hip new way for city-dwellers and tourists alike to get to work, run errands or take a leisurely jaunt through the city. To rent a bike, simply head to one of Paris' 750 renting stations and swipe a credit card at the "borne", or atm-like machine, get a bicycle pass, unlock the bike, and take off! The first half-hour is free; or you can purchase one hour (1 Euro), a week (5 Euros), or apply for a yearly pass (29 Euros) by mail. When finished with your ride, simply park the bike an any station near your stopping point. Well-equipped with baskets and easily-adjustable seats, these bicycles are making alternative transit easy and fun!
Not long after Parisians began enjoying the hop-on-and-ride system, Marseille and Aix-en-Provence followed suit.  They are accomplishing this by encouraging citizens to opt for this "greener" ride. In Aix-en-Provence, green and red three-speed bicycles line up at the town's 16 "V'Hello" stations. And Marseille plans to have 1,000 bikes at 130 stations ready to ride some time this fall.
Already popular with locals, public bike-sharing in France also appeals to vacationers who want to take in outdoor sights while learning their way around these navigable cities.
If you're planning to explore Paris attractions, Marseille or Aix-en-Provence, by bike or otherwise, New York Habitat offers a number of vacation accommodations in all three cities that suit any need.
For those wishing to take advantage of Paris' 230 miles of cycling lanes, consider this New York Habitat offering: a two bedroom apartment in Port Royal- St. Michel- St. Germain- Notre Dame (PA-3306), neighboring the Luxembourg Gardens in the famous Latin Quarter. It puts you within short biking or walking distance of the Sorbonne, the Seine River and many outdoor markets. This apartment is also conveniently located around the corner from two bicycle renting stations.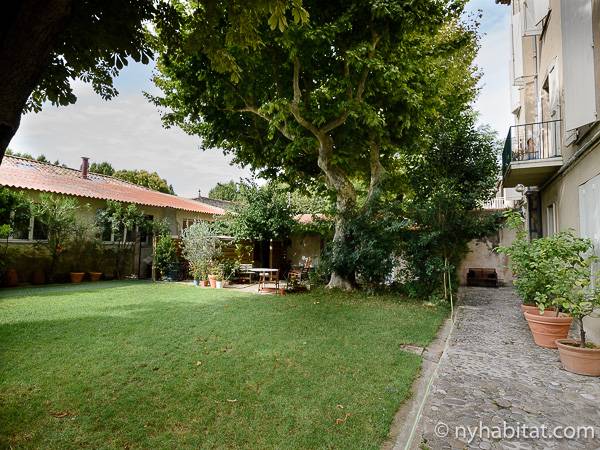 3 Bedroom Rental in Aix en Provence (PR-290)
In the South of France, this
two-bedroom bed & breakfast in Marseille (PR-772)
makes the perfect spot from which to cycle around the Mediterranean port: it is located next to the "Vieux Port" and the Cannèbiere, in the center of town. While there, you might enjoy riding through the cobbled streets of Le Panier, the city's oldest quarter, or to one of the many restaurants nearby to sample Marseille's world-renowned bouillabaisse.
Also in the South of France, this 3-bedroom vacation rental in Aix-en-Provence (PR-290) with a private garden just five minutes from the city center, is in an ideal location to discover one of the top towns to visit in the South of France. Take a leisurely ride through tree-lined avenues of the Cours Mirabeau, past fountains and historical mansions of this very bike-able city. Or, stay in your apartment where you can have lunch on the terrace shaded by wisteria, or take a swim in the pool.
So, do you think the bike-share system is an environmentally-friendly alternative that could eventually convince people to give up their cars?
Paris Velib Station photos from Wikipedia