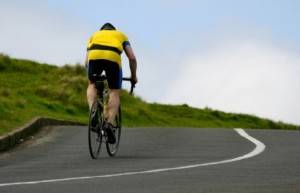 A cycle race
On your Easter vacation to Paris, consider taking a quick day trip to watch the most grueling cycling event on the calendar.  The Paris-Roubaix bicycle race—nicknamed the Hell of the North—will give you an opportunity to spend the day outdoors, watching elite athletes cycling through mud, rough terrain, and over the famous French provincial cobblestones, which make up over 67 uneven and bone-jolting miles of the 160 mile race.
Held each year on Easter Sunday (which falls on April 8 this year), the Paris-Roubaix race is one of the world's oldest cycling events.  It was first run in 1896, where it began at Porte Maillot in Paris and finished at the Roubaix velodrome, as it still does to this day.  The start of the race has since been moved to Compiègne, a beautiful town northeast of Paris.
The ruthless nature of this race makes it different from any other cycling event.  Many of the professional athletes who compete in this race have specialized their rides, to try to minimize punctured tires and bent frames, although every race leads to these issues and more.  Often, the winner of the race is the cyclist who has best been able to hold his momentum despite losing a saddle or dealing with a bowed frame.  In recognition of the "Hell" the winning cyclist must go through to triumph over his competitors and the terrain, the winner is presented with a cobblestone as a part of his prize.
This not-to-be-missed race is very much beloved throughout France, despite its once-controversial scheduling to coincide with Easter.  In fact, a group of volunteers known as "Les Amis de Paris-Roubaix" work throughout the year to make certain that there will be enough cobbled sections to make the race as authentic as possible.  Their job is to make certain that old cobblestone roads are maintained, restored, and sometimes even rebuilt.  This has not always been an easy task, as for years many of the small towns through which the cobbled streets ran were ashamed of not having pavement.  Rather than allow television crews to see their "backward" town with cobblestone roads, they would have their streets paved so that the race would have to go elsewhere.
Not anymore.  Now the tiny towns through which the peloton rides (and bumps!) are pleased to show off their cobblestones—and host visiting cycling fans at their local watering holes and restaurants.  Enjoy a relaxing meal and a drink in one of these little towns while you watch the race pass you by.
Cycling fans will want to make Paris their home base as they travel to the Paris-Roubaix event.  An apartment close to Gare du Nord will make for the perfect spot to easily get a train to and from the race.  We have several Paris vacation rentals near Gare du Nord that will make for the ideal post-race retreat.  Check these out to start your search:
This cozy Studio Vacation Rental – Grands Boulevards – Paris (PA-4263) offers all the comforts of home.  Eat breakfast by the open French windows and take in the elegant air of a Parisian spring.
Stay for awhile in this light and airy 1 Bedroom Vacation Rental – Belleville – Paris (PA-2163).  With a gorgeous view of the neighborhood, chic furnishings, and hardwood floors, you may never want to leave.
Feel like royalty in this 3 Bedroom Vacation Rental – Place de la République – Paris (PA-3989).  High-ceilinged and bright, you will love the beautiful built-ins and incredible views.
What is your favorite French sporting event?
Related apartment rental posts from New York Habitat: