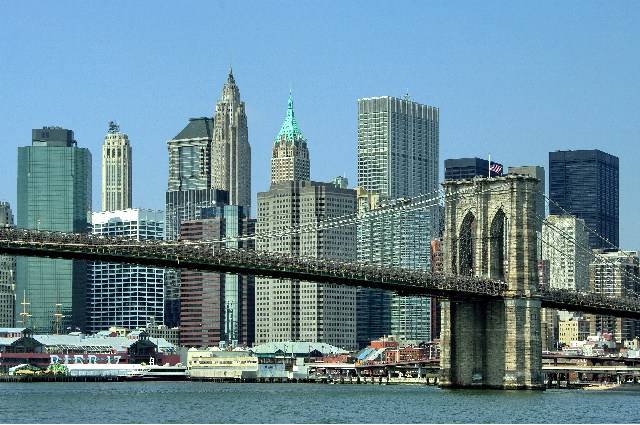 Brooklyn Bridge with views of downtown Manhattan
As we've already discussed, bridges are essential to the efficiency and aesthetic of the city of New York more than any other man-made structure. Uptown Manhattan has its share of river crossings, hulking structures meant for the traffic of commuting cars and trucks rather than pedestrians and camera-wielding tourists.
Downtown's East River crossings though, exemplify what modern spans should be–easily manageable for vehicles and pedestrians, architecturally sound, beautiful. New York Habitat has dozens of flats steps from the structures that link Manhattan to the rest of the world.
The king of all New York bridges is the Brooklyn Bridge. For most New Yorkers the bridge is the undisputed symbol of New York, the work of architecture of which they are most proud. In the absence of the World Trade Center, the Brooklyn Bridge is probably the most recognizable symbol of New York around the world (or at least a close second behind the Statue of Liberty). New Yorkers that cross the bridge every day are still struck by its singular beauty. A walk across the famed span is essential to any visit to New York. The wide pedestrian walkway is less noisy than most and provides some of the best southern-Manhattan views. The Brooklyn Bridge represents a gateway from the 19th to 20th centuries, from the low rises in Brooklyn to the skyscrapers of Manhattan, and the blue collars of Flatbush to the bleached-white collars on Wall Street.
While no New York bridge matches the aesthetic of the Brooklyn, the Brooklyn Bridge's two neighbors to the north–the Manhattan and Williamsburg Bridges–are also worth a visit. Both spans feature pedestrian walkways with a small fraction of the tourists packed on the Brooklyn Bridge. Best of all, these two bridges offer arguably better views of the Manhattan skyline–views that include the facade of America's most famous river crossing.
New York Habitat has accommodations in Brooklyn and on the Manhattan side of the East River as well, all within a walk of the pedestrian crossings. This 1-bedroom apartment rental in Brooklyn Heights (NY-8282) is only one block away from the Brooklyn heights Promenade and offers views of the Brooklyn Bridge and Lower Manhattan! This loft-style 1-bedroom rental in Noho, East Village – Lower East Side (NY-12047) is on the Manhattan side of the East River.
Did we leave out your favorite New York bridge? Let us know why we should have included it below.