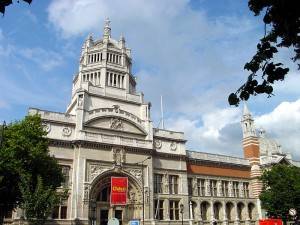 Victoria and Albert museum London

For the last of our three-part series on Cromwell Road's Museum Mile, the focus is on the vast and varied Victoria & Albert Museum. A stay in a vacation rental in Kensington just wouldn't be complete without a visit inside its venerable walls.
The V&A is a beautiful building housing acres of artifacts and artwork from different continents throughout different centuries. From the awe-inspiring Italian Renaissance Sculpture rooms to the haute couture collections in the Fashion Gallery, the contents of the Victoria & Albert are both exhaustive and eclectic. If there's something specific you want to see, hang on to your museum map, which makes navigating the Underground seem simple in comparison. Otherwise, just wander from wing to wing, soaking up the scenery. Fans of British and European classical paintings, Asian craftsmanship, medieval tapestries, modern textiles and design, contemporary photography or intricate Chihuly glasswork may want to make the V&A their second home—their first home, of course, being a comfortable, close-by New York Habitat vacation rental. Others, who may begin to feel a bit overwhelmed, might want to make use of the V&A's outside courtyard, a relaxing square of greenery (complete with fountain) framed by the museum's ornamental exterior. In the summertime, the courtyard hosts a celebrated fête and other late-night Friday festivities.
The V&A also regularly features fascinating, in-depth exhibits, such as the current "Blood on Paper: The Art of The Book," which highlights works created and referenced by some of the most influential artists of the past two centuries. To continue this motif after leaving the museum, head to your neighborhood second-hand bookshop on Gloucester Road to browse the shelves and take advantage of the 20p racks. Afterwards, hit the luxurious Library Bar at the Lanesborough Hotel in nearby Knightsbridge, where the cocktails may set you back a bit but the interior décor will have you coming back for more.
If you're still in the mood for art once you step outside the V&A, don't overlook the nearly adjacent Brompton Oratory, a church whose decorative façade seems to change with the setting of the sun. A few blocks over, on Old Brompton Road, stop by the local outpost of Christie's auction house, if not to place an actual bid then at least to gawk at the priceless items on display inside its windows. To top it all off, catch an art-house film a few steps away on Queensberry Place, at the French Institute's Cine Lumiere, which is currently showing a series called "1968: All Power to the Imagination." This retrospective includes the iconic works of Godard and Chris Marker's thematically layered documentaries.
Kensington is an incomparable area in London for art lovers and Anglophiles alike. As such, we suggest you spend your stay in a flat rentals in Kensington:
A tastefully decorated 2-bedroom Vacation Rental in Earl's Court, Kensington-Chelsea (LN-294) between Old Brompton and Cromwell Roads. Our client testimonial describes this apartment, located in a period mansion block with elevator, as: "A very convenient and comfortable set up in London. The staff at the property were very professional and courteous" (Nov. 30, 2007).
A 2-bedroom Accommodation in Kensington-Chelsea (LN-187) on Cranley Gardens between Fulham and Old Brompton Roads. Located on the second floor of a period building with elevator, this flat features a gas fireplace and French windows that open onto a balcony.
The Museum Mile is an absolute must-see for anyone visiting London. Do not hesitate to leave us your thoughts below about any highlights you've seen at the V&A.