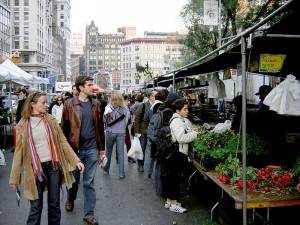 So you're all moved into your New York Habitat accommodation, you've eaten at all the city restaurants on your list, the kitchen in your rental apartment is as clean as when you arrived, and you're getting hungry. It's time to cook–after all, one of the biggest reason most renters choose a New York Habitat accommodation rather than a hotel is for the convenience and pleasure of home cooking. Now that you've decided to eat in, its time to go shopping. Whole Foods is increasingly expensive, the fruit at the neighborhood bodega looks as if it might be plastic, and you're someone looking to take pleasure out of your New York food-shopping experience. The food-shopping solution for millions of New Yorkers is to visit one of the city's dozens of farmer's markets. You heard right; Farmer's markets in the heart of the Big Apple.
Farmer's markets, or Greenmarkets as they're now being called in New York, embrace the old-school pleasure of food shopping. Greenmarkets are meant to be perused–avocado's squeezed for ripeness, apples held up to illuminate bruises and cheeses sniffed for sufficient stinkiness. Greenmarkets are the best place in New York to find unprocessed food, straight from the farm to the Upper East Side. Contrary to popular belief, farmer's markets are also good places to find a good deal (while places like Whole Foods have fixed prices city wide, independent farmers augment their prices more often in a direct response to supply and demand). NYC Greenmarkets are social gathering places, in a city where everyone is in a rush, shoppers and sellers at Greenmarkets discuss the values of mold on goat cheese or the best season to buy asparagus. Greenmarkets also promote the socially-conscious concept of buying and eating local foods.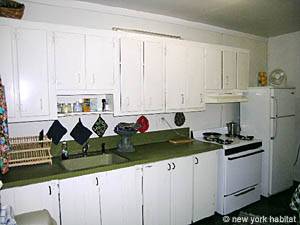 New York accommodation Brooklyn kitchen (ny-12420)
There are some 46 government-supported Greenmarkets in New York City open during the summer months
, with some staying open all year long. Visitors can do virtually all of their shopping at a Greenmarket, in fact many of New York's top chefs do just that.
The beauty of a New York accommodation is the freedom to cook your own meals–perhaps meals with ingredients harvested in the last 24 hours. Here are a few New York Habitat apartment rentals in New York with ample kitchen space in close proximity to a neighborhood Greenmarket.
-The kitchen in this 1-bedroom apartment rental in Midtown West-Chelsea (NY-7245) features exposed brick and stainless steel appliances. The apartment is only a few blocks from the year-round Union Square Greenmarket, open 4 days a week.
– This studio in hipster Williamsburg, Brooklyn (NY-12420) is steps from the Williamsburg Greenmarket, open on Thursdays in the summer. The kitchen has ample cabinet space and sports a retro, green kitchen counter.
For information on Greenmarket locations and hours of operation check out www.cenyc.org.