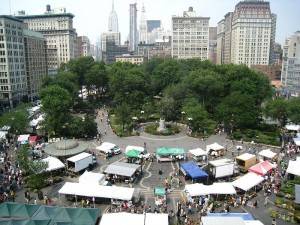 View of the Union Square market
Does New York City boast a more civilized amenity than its scores of farmers' markets? The antidote to chain supermarkets and overpriced delis alike, these miracles of modern commerce give city dwellers access to fresh vegetables, herbs, fruits, meat, dairy products, poultry, and fish, not to mention baked goods, honey, maple syrup, jams, and even wine.
The city's greenmarket program was founded at a single site on the Upper East Side in 1976, and has since grown to encompass nearly 50 sites in all five boroughs.  The markets give small family farms a chance to sell their locally grown products directly to consumers, while allowing New Yorkers from all walks of life access to fresh, nutritious, locally grown food. As if that weren't enougha, by helping to keep local farms in business, the program has contributed to the preservation of New York and New Jersey farmland from development.
Space doesn't allow for a listing of all of New York's farmers' markets, but here are some of the most popular.
New York's biggest and best-known greenmarket is undoubtedly the Union Square Farmer's Market, which is open year-round on Monday, Wednesday, Friday, and Saturday from 8:00 am until 6:00 pm. With approximately 140 producers in rotation every week, Union Square has the proverbial something for everyone. It's worth adding that the place is a cheese-lover's delight; if you've got a hankering for handcrafted ricotta, a Tuscan-style hard cheese, or an extra-creamy raw milk cheese, this is the greenmarket for you.
In Harlem, you can find a farmer's market at West 144th Street and Lenox Avenue on Tuesdays from 8:00 am to 3:00 pm, between July and October. Down in Greenwich Village, a lively neighborhood offering plenty of accomodation, the market at Abingdon Square (West 12th Street and 8th Avenue) opens for business Saturdays 8:00 to 3:00, from May to December each year.
Brooklyn's most popular farmers' market spreads its wares at Grand Army Plaza, at the entrance to Prospect Park, every Saturday (year-round) from 8:00 to 4:00. Depending on the season, on any given Saturday you might find artisanal pizzas, clams, or delicious hot apple cider at the GAP market, so it's always worth a visit.

New York Greenmarkets Logo
New York Habitat has
furnished rental apartments available across New York City
, within easy reach of these and the many other farmers' markets scattered around town. Here are just a few of the current possibilities on offer:
– This one-bedroom furnished rental in Greenwich Village, New York (NY-12502) at 12th Street and Broadway puts you just two blocks south of the Union Square greenmarket in a 14-story luxury doorman building that has its own fitness and laundry facilities on the premises.
– A three-bedroom furnished rental in  Prospect Heights, Brooklyn (NY-12865) is located on the second floor of a two-story townhouse. The farmer's market at Grand Army Plaza is just minutes away by foot, as is the mighty triumvirate of the Brooklyn Public Library, the Brooklyn Botanic Garden, and the Brooklyn Museum of Art.
– a fully renovated, fully furnished one-bedroom rental (NY-14677) in the West Village of New York, between Seventh Avenue and West 4th Street, boasts a modern kitchen with stainless steel appliances. An exposed brick wall adds extra character to the space and windows overlook a tree-lined Village street.
Do you have a favorite New York City farmers' market?  Please feel free to share a recommendation, or other comments, in the space below.