Enjoy the colorfull stands of London open-air markets
Broadway Market in Hackney (near Hackney City Farm and lovely Regent's Canal) is only open on Saturdays—but it packs enough food in its stalls to last savvy shoppers a full week before their ritual return. This loyalty was earned by a range of peerless treats, from cupcakes with organic frosting (in flavors such as elderflower and salted caramel) to garlic-mushroom spreads that are worth eating whether or not your significant other will kiss you for the rest of the day. On top of all that, there's a Vietnamese café and a traditional Cockney food stand featuring authentic East End favorites like jellied eel! As they say: When in England…
Once a week, the Sunday UpMarket on Brick Lane manages to outshine all the cheap Indian food restaurants in the area. This is perhaps London's most ethnically diverse market, positioning Polish kielbasis next to Japanese pancakes and Ethiopian spicy stews. Forget Disney's "It's a Small World"—this is the real deal…and much more delicious!
We could go on and on about Berwick Market close to Soho, the food stalls on Portobello Road in Notting Hill, the West Indian Brixton Market by Lambeth, etc., but you've definitely got the idea by now—and maybe a craving, too. So when you're in the city, stop by these markets and bring some flavorful finds back to your New York Habitat vacation accommodation in London for a memorable meal of your own. We suggest:
– A fantastic 2-bedroom vacation rental in City-Islington (LN-247) situated on the second floor (3rd American floor) of a modern building. Lined with hardwood floors  and featuring a 35 m2 (375 sq ft) private balcony with patio furniture and bamboo plants, this elegant apartment is great for families and can accommodate up to 6 people.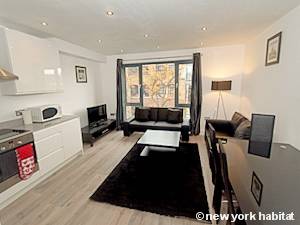 London Accommodation 1 Bedroom Rental in Southwark (LN-1152)
– A bright 1-bedroom rental accommodation in Southwark-Bermondsey (LN-1152) near Tower Bridge. This recently completed, modern apartment has a laundry/dryer, double bed and stylish furnishings.
For tasty treats, choose a London market—but for a tasteful place to stay, make it a New York Habitat vacation accommodation.
What food are you most looking forward to trying while you're in London? Let us know with a comment below.