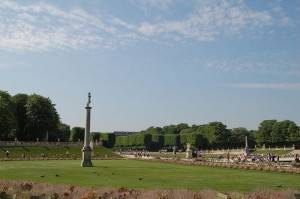 Luxembourg Garden: Paris, France
As anyone who has picnicked in a
Paris
park can tell you; the French capital has some of the finest manicured parks in the world. Full-time gardeners employed by the city make sure that the green spaces are more than just a place to run your toes through the grass, rather works of art to be enjoyed through an artistic lens.
From the lawns of the Luxembourg Gardens to the floral immersion at the Parc Floral de Paris, the French sure do take their botany seriously.
Nearly all of New York Habitat's rental accommodations are steps from a local park, therefore steps from living works of art.
For over ten years, the city of Paris has been celebrating the art of its gardens with the annual Fête des Jardins, or garden festival. Besides hosting a slew of family-friendly activities geared towards learning and the arts, having fun and the arts, the city council offers visits to a number of public and private green areas both on and off the beaten path. This year's edition highlights various efforts to protect biodiversity. Though the festival will take place in each of Paris' 20 arrondissements, the festival's events village will be held at the Parc de Bercy in the 12th arrondissement. The activities take place September 28th and 29th.
Garden lovers looking for a place to wake up and smell the roses should have a look at these highlighted New York Habitat accommodations in Paris:
-This renovated 1-bedroom rental apartment in Marais-Les Halles (PA-1776) features modern amenities.
-This studio accommodation in Invalides, Auteuil-Tour Eiffel (PA-3286) has a great location and a sleek design.
– This 1-bedroom rental apartment in Bastille, Pere Lachaise-Nation (PA-2824) has old-world charms in a bright, airy space.
Which city's parks do you prefer? The grand, wide open spaces of New York City (Central Park, Prospect Park, etc.), or the quant, manicured green spaces of Paris (Jardin du Luxembourg, Parc Floral de Paris, etc.)? Comment Below.