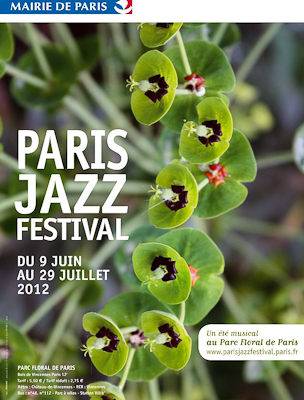 Paris Jazz Festival is one of the city's biggest musical events
The connections between Paris and jazz music stretches back to the 1930s.  And what better way to celebrate and enjoy the influence of America in France and vice versa than to take in the annual Paris
Jazz Festival at the beautiful Parc Floral in Bois de Vincennes
?
For two months, from June 9 to July 29, jazz musicians from all over the world offer outdoor concerts in the Parc Floral every weekend.  Whether you are a jazz aficionado, a lover of live music, or simply enjoy picnics in gorgeous settings, this festival will entertain, delight, and enchant you with music and beauty.
The Parc Floral is the ideal setting for enjoying jazz.  Laid out in 1969 for an international flower show, the blooms in this exceptional park change with the seasons, making each visit a new experience.  The Jazz Festival will set up two stages in the park, a main stage and another stage over the water.  While you listen to the cool sounds of guitar, drum, trumpet, saxophone, clarinet, and the human voice, you can sit back and watch the eponymous flowers of the park sway in time to the music.
In addition to concerts, the festival will also offer games, workshops, and activities for budding jazz enthusiasts.  Not only will children get to learn how to create their own music with different objects from around the house, but they will also have an opportunity to learn about the rhythms and sounds created by many other cultures.
The concerts begin each Saturday and Sunday at 3:00 and 4:30 pm throughout the festival, while many of the children's activities take place starting at 11:00 am.  The only cost is the admission price for the park— for €5 per adult.  A summer of beautiful memories awaits you!
New York Habitat has several furnished apartment rentals available within easy distance of Parc Floral.  Check out these three to get your vacation planning started:
What is your favorite outdoor Paris venue for music?