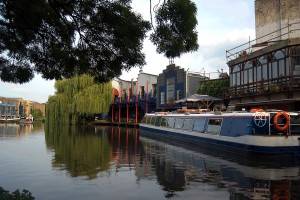 Photo of a barge in Camden-Brent
One of the most scenic and unique ways to see London is on the water—not from one of the ubiquitous tourist boats that take you up and down the Thames but from a colorful narrowboat cruising leisurely along Regents Canal, offering views of the city that cannot be seen from anywhere else. Fortunately, there are a few services in northern London that afford you this chance—and, of course, there are more than a few  accommodations in London to make your stay even more spectacular.
London's waterways used to be the highways of the city, allowing transportation to some of the most famous and frequently visited sights. Boatmen would row passengers on long, narrow boats and "leg it" through tight tunnels, using their feet to propel off of low ceilings. Nowadays, these trips continue to take visitors past stunning views in style, including Lords' Cricket Grounds, the London Zoo and Lord Snowdon's aviary in Regent's Park, the gardens in St. John's Woods, the beauty and serenity of Maida Vale and celebrated Camden Locks.
As you relax, friendly tour guides/boat owners give interesting accounts of tunnels and decorative bridges in some of the oldest parts of London, tying up frequently for unrushed on-land excursions and onboard meals complete with afternoon tea and aperitifs. Cruising through the city's center, you can scoff at automotive traffic, gaze up at the foot traffic comprised of London's legions of international visitors and gain unparalleled access to and angles of landmarks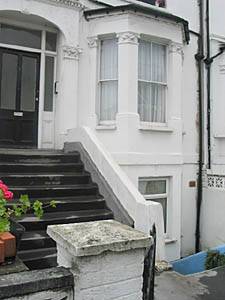 London Accommodation: 1-bedroom apartment in Williston (LN-586)
that take on a whole new character when seen from the canal. In addition, boating through rural places like
Regent's Park
, Browning's Island and an original Victorian cemetery will give you a taste of the English countryside and all of its resplendent greenery without leaving the city limits.
With the romance of the waterways, London takes on the feel of Venice while its own history seems even more alive and immediate.
Once the excursion is over, you can get your land legs back while enjoying dinner at a canal-side café in Maida Vale, a dockside pub in Camden or a pagoda-style restaurant in Cumberland Basin to continue the seafaring theme—plus all of these locations are close to some great apartments in Camden.
To complement a canal cruise, we suggest staying in one of the following NY Habitat London apartment rentals:
•    A classic and quiet one-bedroom Vacation Rental in Hampstead, Camden-Brent (LN-29) located in a calm residential neighborhood near Finchley Road station. This sun-drenched, ground floor retreat comes with thoughtful, personal touches such as a patio, piano, small study and gas-operated fireplace.
•    A private and outdoorsy furnished Studio Accommodation in Willesden, Camden-Brent (LN-24) minutes from Willesden Green station. This ground floor rental comes complete with a queen-sized sofa bed, a terrace with outdoor seating, a garden and backyard, all near the extensive parklands of northern London. Client testimonials rave, "I would highly recommend this apartment" and "It was a great apartment and I would consider staying there again as well as recommending it to others who might be visiting London."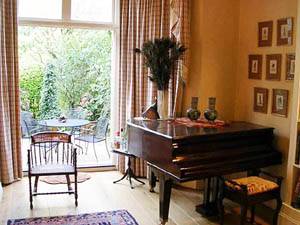 London Accommodation: 1-bedroom apartment rental in Hempstead (LN-29)
•    A funky one-bedroom Vacation Rental in Willesden, Camden-Brent (LN-586) that manages to recreate the colorful, bohemian feel of a houseboat or gypsy caravan. This lower ground floor apartment near Bakerloo station has a queen-sized bed, terrace and private garden, along with fabulous and fun decorative flourishes.
To see London in a whole new way, visit London Canal Cruises—and to make your time spent on dry land as enjoyable, stay in a scenic New York Habitat vacation accommodation in lovely Camden-Brent.
Please let us know the adventures you've had on any of London's historic waterways by leaving a comment below.