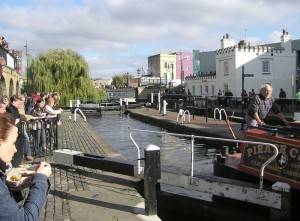 Camden Lock Market London
In London, summer is the perfect time to forego high street fashion chains and head to outdoor markets for one-of-a-kind finds. This city certainly has a lot to choose from: the perennial favorite, Portobello Road between Notting Hill and Ladbroke Grove; the edgier Spitalfields Market not far from the City; the sprawling stalls of Brixton and Brick Lane. But nothing compares to Camden Market for sheer size and cool surroundings—and a stay in a nearby NY Habitat London apartment is a sure way to feel like you've not only seen the city but lived it…and you'll have the packages to prove it!
Okay, so it's easy to mistake Camden Markets for the site of an outdoor concert. They are crowded, especially on weekends—but that's all part of the charm. Navigating, however, is quite another story.
Camden can appeal to shoppers of every stripe. For antiques, there's Camden Passage Market, which is a lot like the Victoria & Albert Museum without walls. For club gear, t-shirts, trainers and knock-offs—all of it pretty cheap, at least by British standards—head to The Camden Market, closest to Camden Town Tube stop, and Camden Canal Market, with the added bonus of a nice view and a few canal-side cafés when all that shopping becomes a bit overwhelming, which it inevitably will. Stables Market, farther from the Tube, has some of the most original offerings. Gathered near the back, by what used to be the horse hospital, are independent artists and craftspeople, as well as a two-floor antique mall and scattered food stands.
That brings us to one of Camden's biggest draws, which you can smell from blocks off: Camden Lock Market's food stalls, crammed with everything from Middle Eastern kebabs to Japanese dumplings, Caribbean patties and proper fish and chips. Sure, it's also crammed with people—well-informed backpackers and budget travelers from the world over come for low-priced lunches loaded with flavor. You can stop here every day after stepping out of your New York Habitat accommodation and still never taste the same thing twice—and that sure beats sandwiches from Sainbury's!
Of course, the streets of Camden that surround the marketplaces are just as lively, getting in on the action with CD and vinyl shops, old-school authentic pubs, laid-back coffee shops, outdoor eateries, live music venues galore and hidden gems of galleries. This part of London has an energetic, funky neighborhood feel that's perfect for exploring and people-watching on summer afternoons. Keep your eyes open for local celebrities like Jodie Kidd, Kate Moss and Sienna Miller, shopping incognito for vintage originals.
Since the neighborhood is such an eclectic area, we suggest equally hip New York Habitat rental accommodations in Camden that will set your stay apart from the usual ho-hum hotel chains.
•Less than one mile away from the lively Camden market, this furnished 1 Bedroom Rental in Camden Town, Camden-Islington (LN-1169) is located on a quiet residential street perfect for you to embrace the London Culture. With high ceilings and garden views, this relaxing home provides a welcoming stay during your visit.
• With its crisp design and central location, this studio Vacation Rental in Primrose Hill, Camden-Brent (LN-487) is on the ground floor of a modern building, surrounded by multiplex and art-house cinemas, Primrose Hill Park (which, after a short climb, has a pretty view of London), local shops and London Zoo. It's less than a ten-minute walk to both Chalk Farm and Swiss Cottage underground stations and only one stop away from the excitement of Camden.
Make your trip unforgettable by staying in a New York Habitat rental near Camden Markets—one of London's true originals.
Leave a comment below to let us know what treasures you found in Camden Town.