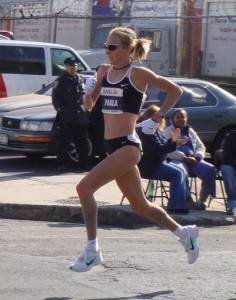 Paula Radcliff at the New York City Marathon
The countdown is already underway for the world's greatest road race.  This year the annual New York City Marathon will take place on Sunday, November 2. The 26.2 mile race is definitely a cause for excitement. Since its origination in 1970 it has become the world's largest marathon with 37,850 finishers in 2006.
What's even more amazing is that the spectators for this event vastly outnumber the marathoners. Each year nearly two million cheering fans line the course which incorporates all five boroughs of New York City (Manhattan, Brooklyn, Queens, The Bronx and Staten Island).  But, whether you're a runner, spectator or volunteer, New York Habitat has comfortable convenient rental accommodations for everyone.
The following vacation rental located on the Upper East Side of Manhattan may be an ideal vantage point for spectators as marathoners make their way through Central Park and head towards the Tavern on the Green finish line:
•    This charming, fully furnished one bedroom vacation rental apartment in the Upper East Side NY-12818 is in walking distance from Central Park and about 10 minutes from the Metropolitan Museum.
Vacation rentals in Brooklyn are also a great option because a huge portion of the marathon is run through this borough. Check out one of the following Brooklyn options:
•    This accommodation 2-bedroom vacation rental in Carroll Gardens NY-12845 happens to be in the midst of the action.
•    This fully furnished three bedroom Triplex in Park Slope NY-15537 is another convenient location.
Whether you cheer on the marathoners through the streets of Harlem, Central Park or Park Slope, the New York City Marathon is one sporting event that we, here at New York Habitat don't want you to miss.
Now in its 38th year the New York City Marathon attracts hundreds of thousands of tourists to the city.  In addition to the race there are several related events that take place during marathon week which allow everyone to get involved. For more information regarding the specific list of events that take place during marathon week visit the official New York City Marathon website.
Have you ever been a spectator of or volunteer for the New York City Marathon?  If so where were you located along the race course?