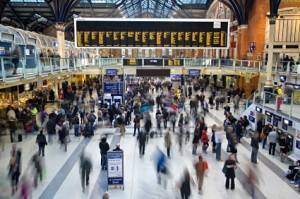 Photo of Liverpool Street station in London at rush hour
Photogenic and historical, London is one of the most filmed cities in the world.
From the days of Britain's own Ealing Studios to recent Hollywood blockbusters, the city has been the backdrop (or the star, depending on how you look at it) of many of the most-loved and iconic movies of all time. 
So New York Habitat has decided to celebrate cinematic London by bringing you a Top Five list of areas
—and
accommodations in London
—that will have you following in the footsteps of some famous on-screen faces, starting with legendary Liverpool Street.
Located in London's City, Liverpool Street is home to many of the city's treasures—for the purposes of our list, the most notable is Liverpool Street Station, which served as a setting for David Lynch's 1980 Romantic masterpiece, The Elephant Man.
Fans of the film will recognize the station from the heartbreaking scene in which John Hurt, as John Merrick, sneaks back into London and tries to discreetly descend the staircase but is chased by an angry mob. Liverpool Street Station has undergone a massive reconstruction since the film was shot there and is now one of the most sparkling and airy of the Underground stops. But the building's original, intricate wrought-iron latticework and cathedral-style brickwork around the windows and skylights still remain—and it is well worth seeing as an enduring testament to gothic architecture.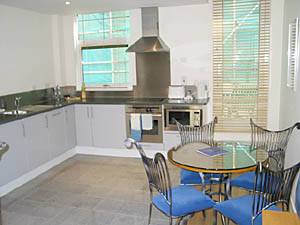 London Accommodation: studio apartment in City-Islington (LN-286)
A stay in a 
vacation rental in the City
on Liverpool Street will also put you within walking distance of the ancient London Wall, a remnant of the city's Roman past, as well as the gorgeously restored Leadenhall Market, a covered marketplace selling fresh food and produce that recaptures The Elephant Man's bygone beauty.
Also about ten minutes away from Liverpool Street in Islington is Bunhill Fields (originally "Bone Hill Fields"), a small, verdant cemetery where some of England's most famous dissenters, such as William Blake and Daniel Defoe, are buried. Round that out with a short walk to Dennis Severs' House, which recreates 18th century London life through a series of tableaus that visitors view by candle or firelight; dinner at Aurora, Sir Terence Conran's restaurant located in a great Victorian dining hall; and a stop at Flittner's, an old-fashioned British barbershop where they still give a traditional hot towel shave—and you'll feel as if you stepped into Lynch's vision of Victorian London.
Of course, one of the best ways to experience all that the Liverpool Street area has to offer is to stay in a conveniently located apartment rental within the City of London. We recommend: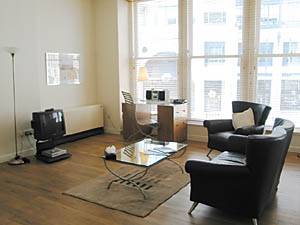 London Accommodation: 1-bedroom in City-Islington (LN-287)
•    A stylish, Studio accommodation in City-Islington (LN-286) on Bishopgate opposite Liverpool Street Station. This rental is in a fully serviced block apartment with a full-time porter and daily cleaning service.
•    A warmly furnished 1-bedroom vacation rental in City-Islington (LN-287) with laundry and dryer, double bed, hardwood floors and large picture windows that let in plenty of light and look out onto Liverpool Street.
•    A spacious and pristine penthouse 2-bedroom in City-Islington (LN-289), across from Liverpool Street Station. This apartment comprises a study area, stretches across two separate levels and can comfortably accommodate up to six people.
A stay in a New York Habitat vacation rental near Liverpool Street will let you live London the way you've seen it on the silver screen.
Let us know which London films you think should make our Top Five list!