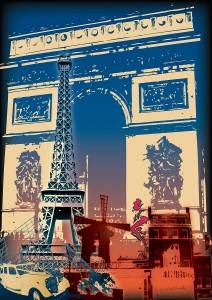 A glass of Champagne, a block of foie gras accompanied by fresh baked bread and a view towards the glittering Eiffel tower as the calendar passes from one year to the next. Guests in New York Habitat's Paris accommodations will have all of this at their fingertips this New Year's Eve. The French capital is a wonderful place to reflect on another year and look forward to the possibilities of the future. What could be a better place to spend the holiday in Paris than in the warmth of your own New York Habitat rental apartment?
While many renters will undoubtedly decide to watch the clock pass 12 with friends and lovers in the comfort of their rental apartment, the city will be buzzing with activities on the big night. The center of all French New Year celebrations is along the Champs-Elysees. Much like the festivities at New York's Times Square , residents flock to the famous avenue to watch the sparkling of the Eiffel Tower and a shower of dramatic fireworks as France ushers in 2009. The ambiance is raucous along the packed avenue, as Champagne corks fly through the air and lovers embrace in prolonged kisses. In addition to the public festivities in central Paris, hundreds of restaurants will offer special menus for couples and families looking for a calmer end to 2008.
– This elegant 1-bedroom apartment rental in Marais-Les Halles (PA-3567) will have guests ringing in the new year in chic Parisian style. This accommodation pairs contemporary flair with a classic French charm.
-This 2-bedroom apartment rental in Ile de la Cite, Opera-Le Louvre (PA-3865) is bright, carefully decorated and boasts some stunning views of the Seine river.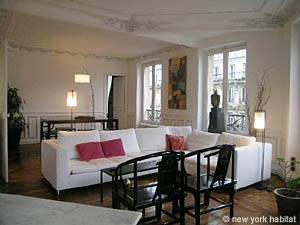 Paris Accommodation: 2-bedroom apartment in Halles, Opera - Le Luvre (PA-3799)
-This 2-bedroom rental accommodation in Halles, Opera-Le Louvre (PA-3799) sports an open design quite rare in the tight quarters of Parisian apartment buildings.
Where do you plan on popping that bottle of new year's Champagne? On the streets of Paris or around the table in your rental apartment?