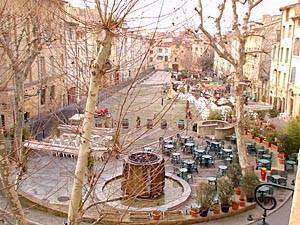 Aix-en-Provence, France
The hottest attraction in the South of France this summer is the Exhibition "Picasso Cézanne" at the Musée Granet of Aix en Provence, and New York Habitat wants to make sure you have a South of France apartment to stay in when you go to see it.
Did you know that Picasso was a huge fan of Cézanne? He even owned three of his works. The exhibition highlights the influences of Cézanne on Picasso's development as an artist, as well as thematic similarities in their works.  It's a must-see exhibition that will thrill fans of both artists.
Although you may not have heard of it previously, the Musée Granet is no lightweight and it's one of the best attractions in Aix-En-Provence.  Recently renovated, it is permanent home to a stunning sculpture gallery as well as an extensive landscapes collection and an impressive number of 17th century Italian paintings.
While you're in the area, make an appointment to tour the Château de Vauvenargues, where Picasso lived for several years – and a site he chose specifically for its proximity to Cézanne.  This is the first time the Château is being opened for public viewing, and is guaranteed not to be overrun with tourists thanks to the guided tours, limited to less than 20 people each.
So, art lovers, what do you say – a little sun, a little fun, and a little art appreciation in the South of France? Excellent!  These New York Habitat accommodations in Aix-en-Provence are sure to fit your style.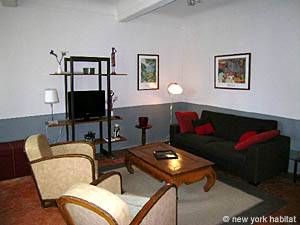 South France Apartment: 2 Bedroom Apartment Rental in Aix en Provence, Provence (PR-920)
This
4-bedroom rental in Aix en Provence (PR-919)
is great for larger groups or families. With rooms on two levels, everyone has plenty of room – and the open-plan living area ensures that no one is "stuck" in the kitchen alone! And best of all, while it is in the heart of Aix it has a private garden for al fresco dining, all summer long.
This 2 bedroom accommodation in Aix en Provence (PR 920) is just a few blocks from Mayor s House, the Cours Mirabeau, now listed historic monument and the famous Rotonde. The location is ideal if you want to experience what is like to live independently as a true native.
Once you see the Picasso Cézanne exhibit share your comments below.