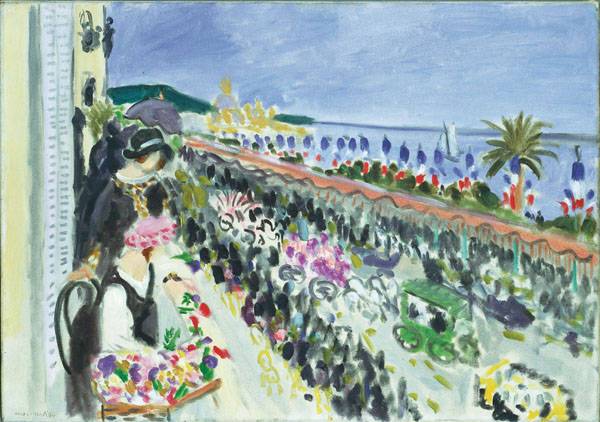 Photo of "Festival of Flowers" from Henri Matisse
Although he was from Northern France, went to the School of Decorative Arts in Paris and spent time in London,
Henri Matisse
got around to working his way down South in 1905 and eventually settled in Cimiez, a suburb of Nice, in 1917. Unsurprisingly, this visually stimulating environment led him to dwell even deeper into his fearless exploration of forms and colors.  While Matisse's oeuvre is remarkable for its boldness and eclecticism, the most touching testimony of the master's deep love for the region is the Chapelle du Rosaire in Vence. He worked on it non-stop for four years and considered it his absolute masterpiece. On the other hand, for a more comprehensive view of his incredible creativity, you cannot miss the
Matisse Museum in Nice
.
With or without the Matisse connection, Nice remains one of the most attractive and fun cities on the Riviera. All types of accommodations are available there from New York Habitat.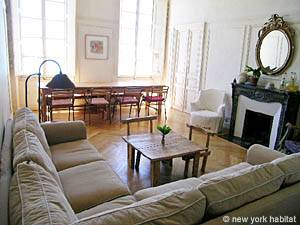 Photo of South France Accommodation (PR-545)
– The colorful Old Town ("Vieux Nice") can easily become your playground from our Furnished
3-bedroom rental – Nice – Old Town (PR-545).
With plenty of light coming in and the famed Flower Market and Promenade des Anglais around the corner, this apartment is hard to beat.
– If you need to be literally on the Promenade des Anglais, we have the perfect Furnished 1-bedroom rental – Nice – Promenade des Anglais (PR-67) for you. And if the action outside your door is not enough, the apartment is equipped with a satellite TV and a home cinema.
Coming up to Vence for a quick look at Matisse's chapel and instantly falling in love with this lovely town is not unheard of. If you decide to stay, the choice of the accommodation is yours:
– NY Habitat has a charming Furnished 2-bedroom rental – Vence – Center (PR-356) with a panoramic view and Wi-Fi in a quiet neighborhood.
– If you're looking for something smaller, we have a versatile Furnished 1-bedroom rental– Vence – Center (PR-334) that is part of a large divided mansion with terrace and garden.
As Matisse was falling under the powerful spell of the French Riviera, he was also developing a life-long friendship with another prestigious adopted local: Pablo Picasso. The exiled Spaniard loved the region so much that after several visits to like-minded friends he eventually settled there for good in the 1950s. His untamable peripatetic nature, however, kept him from staying in just one place and he never stopped shifting his base among Saint-Tropez, Cannes and Mougins. Throughout the area, coming across Picasso's imprint is as common as a gorgeous day. But if you have to pick just one venue, it has to be the Picasso Museum in Antibes, where inside the medieval castle overlooking the glittering Mediterranean the master's most hedonistic and peaceful works welcome the visitors in white-walled galleries.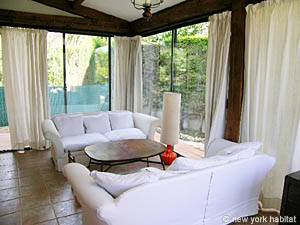 Photo of South France Vacation Rental (PR-633)
– Saint-Tropez was already a fashionable destination when Picasso and his muse Geneviève made it their home in the early 1950s. Now it is your turn to enjoy our Furnished 3-bedroom rental – Saint-Tropez – Center (PR-562) with a pool right downtown.
– A short distance above Cannes, Mougins offers some welcome respite from the city's hustle-bustle in our slick Furnished 2-bedroom villa – Mougins (PR-633).
– If hanging out in hot spots is what your vacation is about, enjoy the famed Croisette and a short drive to Antibes by staying in our Furnished studio – Cannes – Croisette (PR-264).
Whether you are into Fauvism, Cubism and just a lover of the good life, we have many vacation rentals in the French Riviera for you. What is YOUR main reason for visiting the region? Please Comment Below.