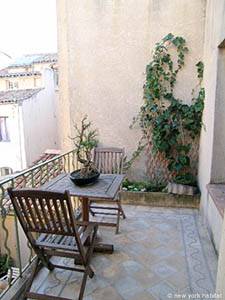 Aix en Provence terrace
As you pack up the kids to head back to school, perhaps you are feeling a little nostalgic for your own school days.  Why not try and capture some of your collegiate spirit in one of the oldest university towns in Europe, Aix-en-Provence?  You won't have to live in musty old dorm rooms with a luxurious apartment rental from New York Habitat.
Ideally located in the heart of Provence, Aix-en-Provence has been known as a university town since 1409. To this day, its reputation stands and is home to some of the most prestigious, and oldest, universities in France.  But if you're not all about books and studying, don't worry; there are plenty of attractions in Aix-en-Provence as well.
Museums abound in Aix, especially since the painter Paul Cézanne called this town home for much of his life.  Besides a museum built around Cézanne's studio, his father's house, and the surrounding grounds, is now also partially open to the public.  There are also quite a few museums dedicated to Aix's history, which is quite extensive considering it dates back to 123 BC!  Aix is also well known for its fountains, bell towers, and architecture. Stroll about town, or rent a bike to get you around, and soak up the French atmosphere.  After your day of sight-seeing, head to Les Deux Garçons, a brasserie that's been around since 1792 and has served such remarkable clients as Cézanne, French author Emile Zola, and American author Ernest Hemingway!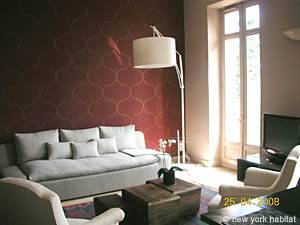 South of France accommodation: 1-bedroom in Aix en Provence (PR-432)
New York Habitat has plenty of terrific
accommodations for your stay in Aix-en-Provence.
Some notable choices are:
•    This 2 bedroom rental in the heart of Aix (PR-1153).  Located in a mansion from the 17th century, this apartment has  large windows that make it very bright and has been decorated to provide an inviting atmosphere.  Best of all, you'll be in the heart of the Cours Mirabeau, one the city's busiest and most lively areas!
•    You can also stay in this 3 bedroom rental in Aix-en-Provence (PR-1137), ideally located in the heart of Aix. Occupying 3 levels of a charming walk-up building, this apartment is a nice mixture of old and new, with  tomette floor tiles,  decorative fireplaces and stainless steel appliances in the kitchen.
•    This 1 bedroom rental in Aix-en-Provence (PR-432) is also available for you.  This apartment, also located in the center of Aix, is very modern but will still make you feel right at home since it retains some of its French charm with its large windows.  Like the other two apartments, this one also has a balcony so that you might continue to enjoy the sights and sounds of Aix even when you're not in town.
There are plenty of reasons to relive our back-to-school days in the university town of the city this fall.   Aix is a wonderful city to visit in its own right, but all the schools, universities, and other educational programs located here give Aix a more youthful and fun atmosphere, despite the city's age. But you don't have to live like a student with a great vacation apartment rental from New York Habitat. Plus you get to travel in the area and enjoy all the Provence region attractions.
Have you been to Aix-en-Provence before?  What did you like about the city?  Please share your thoughts with us in your comments section.