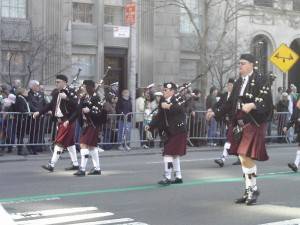 Photo of a New York marching band
If you're looking for a festive way to celebrate Saint Patrick's Day, look no further than the Big Apple, New York City.
While the city may be a melting pot of cultures, everyone is happy to be "Irish" on March 17. Start your day with the annual Saint Patrick's Day Parade, then continue on to one of the city's many pubs for a pint of Guinness and some traditional Irish grub.
Now in its 248th year, New York's Saint Patrick's Day Parade is one of the largest and most famous in the world. Huge crowds gather, donning green attire and even face paint, to catch a glimpse of the Irish pageantry. To this day, the parade stays true to its roots by not allowing floats, automobiles or other commercial aspects. Instead, the procession is made up entirely of marching bagpipers, high school bands, and community leaders – and of course, plenty of men in kilts!
The parade begins on 44th Street at 11:00 a.m. and slowly makes its way up 5th Avenue, passing the famed Saint Patrick's Cathedral on 50th. It continues all the way to 86th Street, finally concluding outside the Metropolitan Museum of Art in the Upper East Side. In fact, some of the best views of the parade can be found on the museum steps.
After the parade, warm up with a hefty pint at McSorley's, the oldest continuously operating bar in New York. Established in 1854, the East Village saloon is steeped in history, having hosted everyone from Abe Lincoln to John Lennon. The spirit of the bar lives on, with sawdust-strewn floors and over 150 years of history on the walls. On tap you'll find just two choices: McSorley's Light and McSorley's Dark.
For some good eats, check out St. Dymphna's Pub on Saint Mark's Place, also in the popular East Village, a neighborhood with plenty of central and comfy accommodations. The menu offers traditional Irish fare like the Rasher Sandwich and Bangers and Mash, but also bar staples like potato skins, chicken fingers and crispy calamari. The friendly staff and cozy atmosphere make it easy to hunker down and stay awhile.
After a full day of celebrating, head home to your very own New York Habitat apartment in the East Village or your vacation rental in the Upper East Side for instance. You can choose from a wide selection of downtown apartments, including:
This  Studio Accommodation in the East Village (NY-4062) in the heart of the East Village. This spacious apartment is ideally located, close to Tompkins Square Park.
This contemporary 2-Bedroom apartment rental in the East Village – Lower East Side (NY-7311) located on the first floor of a postwar building. The spacious apartment can accommodate up to six guests and features a private garden.
New York City is gearing up for another great Saint Patrick's Day. It's time to pack your bags (full of green clothes, of course!) and head to the bustling city.
Have you ever spent Saint Patrick's Day in New York? Share your experience with us.