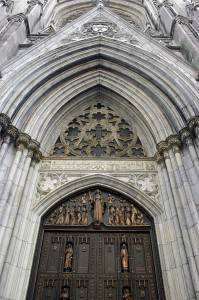 Photo St. Partick's Cathedral in New York
Now that we have discovered the

St. Paul's Chapel, #2 of our Top 5 New York City Churches, it's time to discover the #1: the St. Patrick's Cathedral. Located in Midtown East it's perhaps the most well-known church in all of New York
, or North America for that matter. The Neo Gothic cathedral rivals the likes of
Paris
' Notre Dame Cathedral in its gothic grandeur and standing within the city's architectural lexicon. St. Patrick's is the head of the New York Catholic church, acting as the seat of the archbishop of the Roman Catholic Archdiocese of New York, and the structure plays a vital role as both a symbol of Catholic
New York
(particularly Irish Catholic) and as an active place of worship.
Today's church has become a bona-fide tourist attraction for both its location across from Rockefeller Center and its remarkable architecture.
Much like Notre Dame, St. Patrick's Cathedral takes its fame from a central location, ornate structure and remarkable history. Completed in 1878, the cathedral is undoubtedly one of the most influential and historically significant existing churches in all of North America. The structure itself is massive, even in Manhattan's standards, and the cross-shaped footprint of the church consists of a whole city block. The spires rise some 330 feet, which would have been visible for hundreds of yards before Midtown Manhattan real estate was gobbled up by skyscrapers.
The church can accommodate over 2,000 parishioners and often does on special occasions such as Christmas Day, for the burial services of a former archbishop, or on St. Patrick's Day it was is largely viewed as an Irish church. St. Patrick's Cathedral has welcomed dignitaries from around the world and hosted a mass led by Pope Benedict in 2008. Requiem masses for the likes of Babe Ruth, Robert F. Kennedy and Celia Cruz were all held at the cathedral.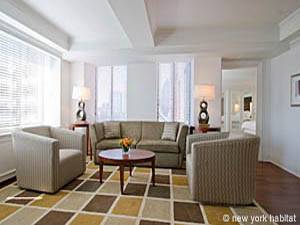 Photo of New York Apartment: 2-bedroom accommodation in Midtown East (NY-12498)
Midtown Manhattan is one of New York Habitat's most popular New York neighborhoods, and has been for decades. Still,
dozens of accommodations are available in Midtown East
  for the spring season. Here are a few selected accommodations to get your search begun:
– This 1-bedroom vacation rental in Central Park South, Midtown West – Chelsea (NY-11135) features exposed wood beams, lots of direct sunlight, and cozy furnishings.
– This clean and classic 2-bedroom vacation rental in Midtown East (NY-12498) features hardwood floors, a renovated kitchen and an ideal Midtown location.
– This bright and roomy studio accommodation in Midtown West-Chelsea (NY-8169) features hardwood floors, a massive loft layout and space for 5 guests.