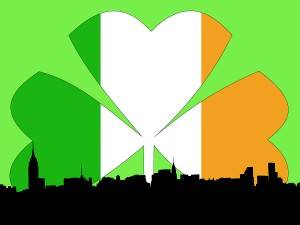 New York Skyline St. Patrick's Theme
All New Yorkers become honorary Irish Americans on St. Patrick's Day, and there isn't a more beloved New York City tradition than the annual St. Patrick's Day Parade. Held on March 17, the parade dates back to 1764 and currently hosts more than 150,000 marchers whose ranks include bagpipe players, high school marching bands, and other musicians (many of them men in kilts)—all playing in front of the approximately 2 million spectators who line both sides of 5th Avenue. (In addition to its history, another notable aspect of the St. Patrick's Day Parade is that it doesn't allow floats or cars, thus making it one of the last genuine "marchers' parades" in New York City.)
Led by the "Fighting 69th," the historically Irish-American infantry unit, and their Irish Wolfhound mascot, this year's parade (the 250th, for anyone counting) will begin at 11:00 am at Fifth Avenue and 44th Street and proceed north past St. Patrick's Cathedral at 50th Street before culminating at 86th Street, in the Upper East Side, just past the Metropolitan Museum of Art, sometime after 4:00 pm.
The blocks between 44th and 59th Streets tend to be the most packed, so the parade's official website recommends heading anywhere north of 66th Street along 5th Avenue for better viewing. (The steps of the Metropolitan Museum, between 83rd and 86th Streets, are an especially good vantage point, but be sure to get there early to claim your spot.)
If you're visiting New York City on St. Patty's Day, you too will be invited to share in the festivities, which don't end with the parade. The city's numerous Irish restaurants and pubs offer unrivalled opportunities to hear traditional Irish and Irish-themed music, and of course a chance to drink to the health of Ireland's patron saint himself. Paddy Reilly's Music Bar in  Midtown East (2nd Avenue and 29th Street) has been home to some of the best Irish bands in the city for years, and you can also try to score a ticket for a concert by legendary rowdies The Pogues at Terminal 5 in Midtown West (610 West 56th Street, near 11th Avenue). Midtown West is a neighborhood that offers plenty of nice accommodations if you're a hardcore fan of Celtic music.
Last but not least, the Irish American Arts Center (at 553 West 51 Street) upholds Eire's mighty literary tradition with the first-ever Irish Arts Center Book Day, which is rumored to involve a lot of free books.
Planning to be in New York City on or around St. Patrick's Day? Pack something green and let New York Habitat find you a furnished rental apartment for your stay. Here are a few ideas for Manhattan rental apartments to help get you started:
– This furnished two-bedroom rental in Midtown West, New York (NY-15381) is located at 48th Street & 8th Avenue, mere steps from the Theater District and Times Square. The 43-story building features a 24-hour doorman, fitness center, and sun deck offering spectacular views of Manhattan.
– A furnished 1-bedroom rental in Midtown East, New York (NY-12836) comes complete with an office, open kitchen, and internal washer/dryer. Its location in Manhattan's cosmopolitan Turtle Bay neighborhood puts Midtown landmarks like St. Patrick's Cathedral and several flagship retailers within easy reach.
– Another furnished 1-bedroom apartment in the East Village, New York (NY-10654), at 13th Street and 1st Avenue, puts you in the same neighborhood as the legendary Irish saloon McSorleys, along with the many other bars and restaurants that make the East Village a nightlife capital. Inside you'll enjoy hardwood floors and an Internet connection.
Do you have a favorite memory of St. Patrick's Day in New York City, or a recommendation for what to do?  Please feel free to share your thoughts below.