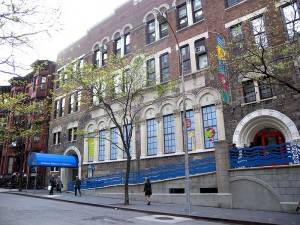 New York City has some of the world's finest museums. The Met is the city's answer to Paris' Louvre, the Museum of Modern Art houses both the recognizable and avant garde, and the Guggenheim has visitors in awe before they step through the doors. The draw of New York's cultural institutions is obvious to most travelers, but is often underappreciated by the smallest ones. Even the most cultured children often have a hard time staying still and listening to lectures in the halls of world-famous museums.
For parents hoping to engender a real sense of cultural awareness in their children, while keeping them in their element, the Children's Museum of Manhattan is a godsend. Many of New York Habitat accommodations in the Upper West Side share the  Children's Museum of Manhattan's blend of cultural and kid cache and are available throughout the year.
The Children's Museum of Manhattan (CMOM) offers authentic cultural learning experiences, hands-on workshops and kid-friendly performances that range from rowdy pop-rock concerts to calming author readings. CMOM is first and foremost an educational space, and one that mixes fun and learning. CMOM's exhibits tackle a diverse range of issues from literacy to creativity. The museum boasts a floor dedicated solely to pre-schoolers, exhibits designed to introduce art, science and literature. The museum even has a healthy living programming encouraging good nutrition and daily exercise. In addition to the permanent exhibitions on display, the museum hosts a calendar full of daily drop-in workshops allowing children to explore their creative side or refine their motor skills, all in a supervised and social setting.
New York Vacation Rental: 1-bedroom apartment in Morningside Heights NY-11526 pict
The Children's Museum of Manhattan is located on the
Upper West Side
and admission to workshops is free with $10 admission price. Museum entry is free on the first Friday of each month.
Below are a few family-friendly apartments available this spring:
-This 1-bedroom vacation rental apartment in Harlem, Uptown (NY-11526) would be a nice choice for a family looking to experience one of New York's most famous neighborhoods and enjoy the apartment's private garden.
– This 2-bedroom vacation rental in Noho, East Village-Lower East Side (NY-12499) will please both parents and kids, alike.
Let us know your favorite exhibit at the Children's Museum of Manhattan in the comments section below.