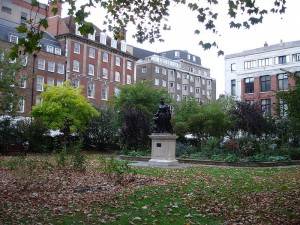 Photo of Queen Anne Square in Bloomsbury, London
As the intellectual epicenter of nineteenth and twentieth century, London, and especially the Bloomsbury area, were home to some of the most celebrated authors and thinkers of the time. With the University of London, the British Museum, the British Library, the Pushkin House and the Dickens House all within walking distance, it's no wonder that the area continues to attract academics, artists and literature lovers from all over the world . Want to make sure the story of your visit to the city has a happy ending? Book a stay in a nearby New York Habitat apartment rental in London!
The history of Bloomsbury reads like the shelves of a library:
Virginia Woolf lived at 51 Gordon Square and hosted the famed Bloomsbury Group there. Jeremy Bentham founded University College on Gower Street, where his remains can still be seen in the South Wing (for a sight you'll never forget, skip Madame Toussaud's and head here instead!). T.S. Eliot was dubbed "the Pope of Russell Square" and hid out from his first wife at 24 Lincoln's Inn Fields. Mary Godwin is rumored to have first met Shelley in the St. Pancras Old Church, where she was visiting the grave of her mother, Mary Wollstonecraft.
Although blue plaques abound, the best part about Bloomsbury is that its history and culture can still be felt on its vibrant streets, in its varied bookstores, and in its myriad museums and galleries.
Take a break in charming Bedford Square to see one of London's best-preserved eighteenth century public spaces. Stop in Sir John Soane's Museum for its enormous and eclectic collection of sculptures and rarities…not to mention its eccentric layout. And browse the rare books or buy a gently used paperback in the reasonably priced shops along Charing Cross Road—a London institution struggling to compete with chain stores. Take your treasure to bed and read until you fall comfortably asleep in one of these suggested New York Habitat vacation rentals in Bloomsbury:
• A spacious and well laid out 2-bedroom vacation rental in Bloomsbury-Westminster (LN-640) in an apartment building with elevator. This accommodation has two bathrooms, a laundry/dryer, dining for six, and a double sofa bed in the living room, in addition to the two bedrooms, so it's perfect for a family, a group of friends or an entire book club!
• A sunny and immaculate 2-bedroom rental accommodation in Bloomsbury-Westminster (LN-388) in a large apartment building with elevator and full-time doorman. The master bedroom has a king-sized bed, the second bedroom has twin beds and the sofa bed in the living room sleeps two. Client testimonials state: "I wish to tell you that the apartment greatly suited our requests and therefore I definitely recommend it"; "The three-room flat we were in was simple but quite pleasant"; "We…found the location and condition of the apartment to be very favorable."
• Bordering Bloomsbury to the east, this lovely 2-bedroom vacation accommodation in Soho (LN-334) conveniently In the heart of Soho just South of Oxford Street. The apartment features an access to the communal roof terrace overlooking the square.
Bloomsbury is where literary London comes to life! Let New York Habitat put you in the heart of this historical and cultural center.
Which London-based book is your favorite? Let us know with a comment below.