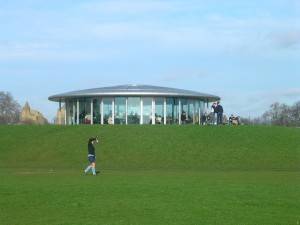 Regents Park hub in London's Regents Park
For those in love with London, there are countless arguments over all that the city has to offer, from where to see the best art collection to which pub serves the perfect pint. In summer, though, it's all about which park is top pick to spend those precious sun-drenched days in. Deciding is no easy task when you consider that thirty percent of London is covered in parkland—but the attractions that Regent's Park has to offer give it a distinct advantage over the others. Check out accommodations in the Regent's Park area, one of London's most beloved public spaces—but you'll have to remember to pack your own picnic basket!
One of the things that makes Regent's Park our top choice is its open-air theatre, the perfect alternative to high-priced West End shows. For a fraction of the cost, you can buy yourself a standing-room-only, blanket-sized space on the theatre's sloping lawn and watch a Shakespearean performance, a mid-summer's night musical (this season's selection is Gigi), a concert or a comedy revue. Sure, the theatre sells some high-end concession snacks, but you can always stash a few candy bars in your purse or pockets—and enjoy a show under the stars for a couple of quid.
Another must-see attraction is the park itself, designed by master John Nash. With its picturesque bridge, stream, rowing lake, royal rose gardens and endless paths through pristine greenery, Regent's Park is an all-day, low-cost destination for tourists and families. On summer Sundays, check out the bandstand for free musical events and festivals, stroll over to the park's famed zoo or stop and watch a friendly game of football being played somewhere within the hundred acres of sporting fields.
Perhaps the biggest reason we at New York Habitat love Regent's Park the best is its location. Nash's architecture that surrounds the park is an attraction in itself. Walk around the perimeter to see private homes that put Buckingham Palace to shame—since you can't get inside, it saves you a ton in admission fees!
The pretty Marylebone region also encompasses Baker Street (the fictitious home of Sherlock Holmes); Madame Tussaud's and the planetarium (which, if the kids have their hearts set on seeing, is best entered after 5 p.m. for a discounted rate and will also give you plenty of time to breeze through the entire building); Abbey Road; the Lord's Cricket Grounds; and the myriad cafés, shops and eateries north of Oxford Street. A New York Habitat apartment in Regent's Park will put all of this within your reach (and your budget)—and we can't imagine a much better place to wake up each day.
• A wonderful 2-bedroom Furnished Apartment in Westminster (LN-702) situated in Pimlico section of central London. This apartment features a king-sized bed, available spa services and is close by to famous attractions such as the London Eye.
• On Abbey Road, a lovely 2-bedroom Apartment in St. John's Wood, Westminster (LN-423) on the third and top floors of a walk-up building, a nice walk from Regent's Park.
• Decorated with blonde wood and pops of color, a Furnished 2-bedroom Apartment in Swiss Cottage, Camden—Brent (LN-441) just off Abbey Road on the first floor of a period house with front and rear terraces. This accommodation is a three-minute walk from the Swiss Cottage station and just two short stops from Regent's Park.
A stay near Regent's Park will show you why Londoners escape to open, green spaces in the summertime—especially when they don't have to leave the city to do it!
If you've enjoyed the charms of Marylebone and Regent's Park, please share your comments with us below.