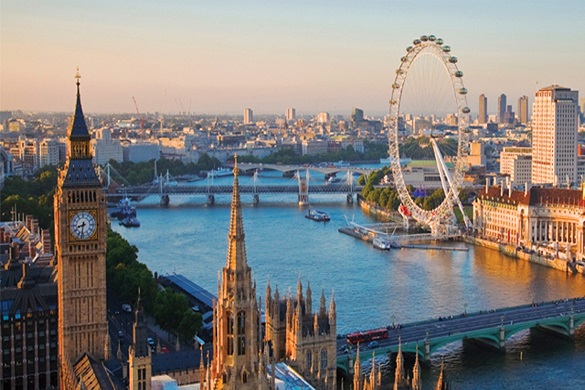 Don't miss London's sights and sounds in springtime
Springtime in London
As the weather warms from the chill of winter months, London awakens from its slumber with flowers blooming in the local squares, temperatures rising to that perfect balance of warm yet breezy and everyone heads outdoors to enjoy all that this stunning city has to offer — without all the summer crowds. It's precisely why we think spring is the perfect time of year to visit London! We've got apartments near breathtaking gardens and apartments with breathtaking gardens. Because everyone marches to their own drum and has their own reason for visiting London, from the royal watcher to the English history buff, the fashionista to the British music fan, so shouldn't where you stay be just as personalized? With options ranging from basic for those on a budget, to luxurious bucket list favorites for a special occasion, and everything in between, find the apartment that fits you perfectly!
Experience London Like the Locals
If you really want to get to know a place, position yourself among the locals, not in a pseudo-London created just for tourists. Sure, we all want to see all the iconic London sights, but who says you need to stay in a sterile feeling hotel surrounded by shops and restaurants marked up double price just for tourists? Instead, why not rent a one-of-a-kind apartment all your friends will be jealous of, wake up to your own schedule not housekeeping's, socialize with the locals, and shop and dine where the insiders do. Tourists' traps are rarely worth it, and the locals always know all the best spots!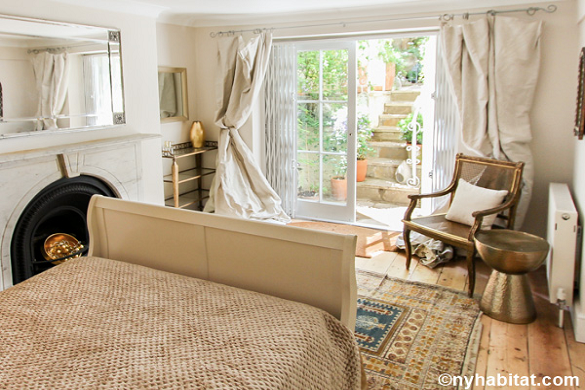 Rent an apartment with a terrace and really enjoy the spring weather in London
What better way to enjoy the blossoming of spring than by staying in this 2 bedroom apartment in Primrose Hill with its very own terrace, surrounded by lush greenery. Situated among picturesque townhouses in one of London's most exclusive residential areas, this apartment in a colorful townhouse offers an elegant London experience. Tufted couches and long, gilded mirrors add a very British sense of regalness to the space. French windows fill the space with boundless natural light and open onto the furnished terrace where you can enjoy an afternoon tea in the tranquility of a secluded English garden. Decorative fireplaces and antique rugs add charm and warmth, making you feel right at home from the start. Picture yourself waking up in the sleigh bed surrounded by a gorgeous decorative fireplace and stepping out onto the terrace in the morning light. Just as enticing is the second bedroom with a cozy bed nestled in an alcove framed by curtains and a stunning, larger-than-life mirror.
Besides, the reason vacation apartments are all the rage these days is pretty obvious. Instead of a cookie cutter hotel room, you get a unique property and you can select from a cozy place for two to a spacious flat for the whole gang. They're also an economical option for families or groups of friends taking a gap year on a budget. Fully equipped kitchens let you save money by preparing some meals at home instead of eating out all the time, and you can situate yourself in any area that peaks your interest, not just the crowded and noisy tourist centers. Like the outdoors?
Springtime is for the Outdoors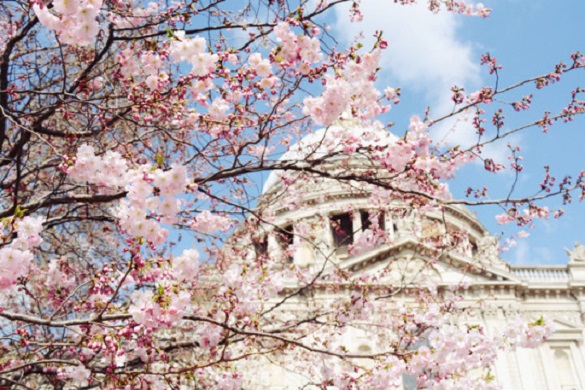 London's parks and gardens are in bloom!
Everyone knows spring is the season for lovers but it's also perfect for lovers of the outdoors! So when the scent of those spring blossoms starts to call you, head to one of London's famous parks or gardens and immerse yourself in the renewing power of nature. English gardens are world renowned for good reason. Did you know the various towns in England have annual garden competitions to see who will win the title of having the most beautiful gardens? What could be better for the environment and tourists looking to gain a lot of Instagram followers than a bunch of fiercely competitive green-thumbed Brits?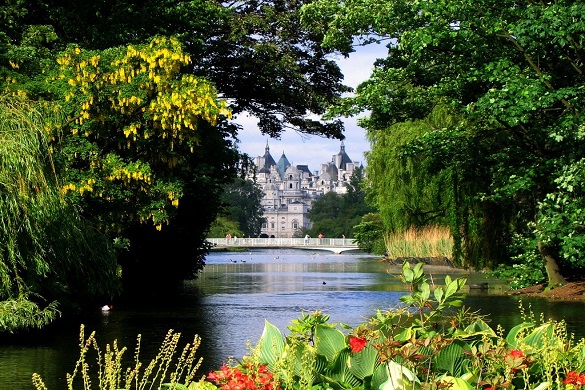 Discover all the green spaces London has to offer this spring
London has plenty of parks and gardens to keep any nature lover busy, from the manicured gardens of Hyde Park and St. James Park to huge, hilly Hampstead Heath and the hidden gardens tucked away in residential squares. Hyde Park, one of London's eight royal parks, spans 350 lush green acres in central London, and there's something for everyone here, from horseback riding to tennis and even a putting green. Take your other half on a romantic paddleboat ride along The Serpentine on a balmy spring day. Hampstead Heath is one of the highest points in London so the views are spectacular (especially from Parliament Hill).
While it may take some persuading to get you to leave the comforts of your London apartment rental, one of the best ways to see London while enjoying the fresh spring air and getting some exercise is by biking! Hire a Santander Bike near your rental apartment and ride around town, it's the best way to enjoy the warm weather and see places like Bloomsbury, Westminster and South Bank. Another springtime must is planning a trip to Hampton Court Palace, England's version of Versailles, and a fantastic day trip from the city center. Here you can test out your problem solving skills while you meander your way through the many twists and turns of the UK's oldest surviving hedge maze! Travel back in time at the fascinating exhibition on young Henry VIII or a live performance of Encounters with the Tudors.
Where to Eat & Shop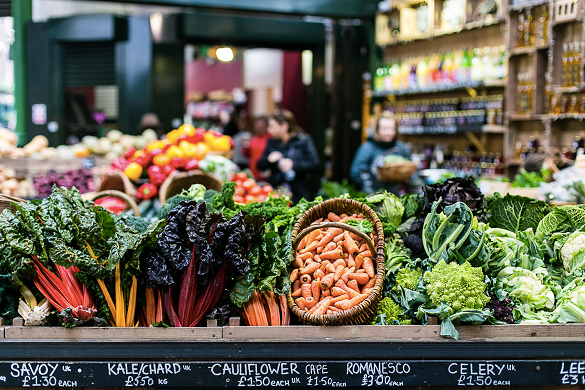 Shop the local markets for the latest spring harvest. Photo credit: Borough Market by Kat Molesworth
After a day exploring around London, you'll want to put that full kitchen in your rental apartment to good use and what better way is there than browsing the neighborhood markets and trying out some local delicacies! Borough Market has over 70 different stalls selling produce from the UK and beyond so you can grab some fresh ingredients and try out your favorite British recipe, plus there's lots of tasting samples in case you're just "browsing".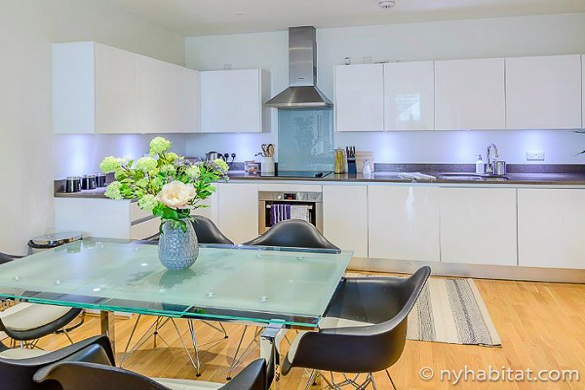 Rent a vacation apartment with a fully equipped kitchen and cook at home
Any cook will appreciate this 3 bedroom furnished apartment in Westminster with an open kitchen equipped with all you could need for cooking up a masterpiece meal. The modern kitchen features stainless steel appliances, electric stove, microwave and dishwasher. In addition, a dining table that seats six, three spacious bedrooms and two bathrooms make it a great a fit for a group or family. Everyone can have his or her own space and there will be no line for the bathroom! Gather your group on the wrap-around sofa in the living room where floor to ceiling windows provide spectacular views of the famous London Eye and the city stretched out in front of you. You won't have to haul the family too far to see the best of London with Buckingham Palace and Westminster Abbey being just a few of the many sights surrounding this centrally located property. Also, if you are visiting London in June, don't forget to attend a great annual spectacle – the Queen's Birthday Celebration, which falls on the 10th of June this year. For some tips on money-saving things to do with a family in London check out our blog.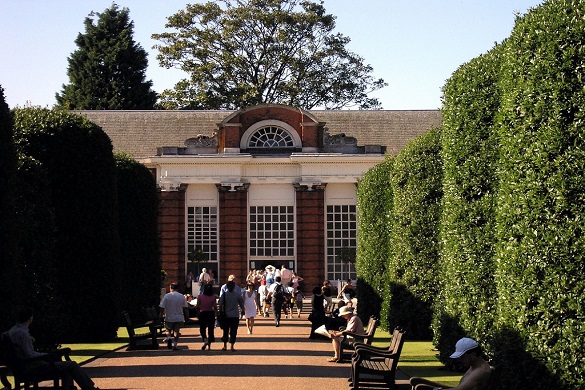 Sip some tea in style at the Kensington Palace Orangery
On your way to see the sights of Central London, a perfect pit stop to take and try out one of the best English traditions — afternoon tea — is at the Kensington Palace Orangery, a light airy building near the entrance to Kensington Palace in Hyde Park. The garden pavilion was built for Queen Anne in 1704 and today you too can enjoy a scrumptious snack in this elegant spot surrounded by formal gardens, soaring ceilings and 18th century architecture. Open for breakfast, lunch and afternoon tea, stop by for a bite or a spot of tea and then stroll through the park enjoying that glorious springtime weather!
With spring weather comes the need for a new spring wardrobe of course! So if spring-cleaning left some extra room in your closet, why not mix in some vintage pieces with that new wardrobe? London is known for its fashion sense and its vintage shops. Camden Market is the spot to find unique vintage finds and all sorts of alternative fashion. Stop by some of our other favorite shopping spots in London too. Shopping doesn't only have to be about clothes though, the Columbia Road Flower Market turns magical this time of year, so pass by on your way home and pick up some fragrant and colorful blooms to brighten up your apartment.
Off the Beaten Track Ideas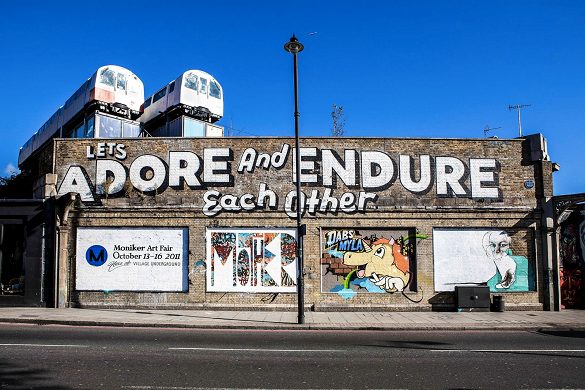 Shoreditch's unique street art is an open-air gallery
To see the 'real' London, head out of the center away from the iconic landmarks to some of the surrounding neighborhoods where you'll discover everyday London life and stumble upon a few of its best kept secrets. The East End and Shoreditch are the places to go for street-art, hipster boutiques and delectable Brick Lane curries. Here you'll find some of the best ethnic cuisine and local art without all the crowds and hype or the high prices.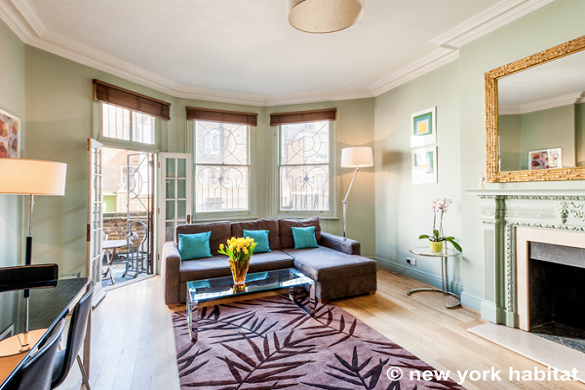 Get in the mood for spring in this colorful apartment with terrace
If you want to immerse yourself in local life but also have nostalgia for the Swinging London vibe of the 60's where art, music and fashion were at the forefront, head to Chelsea. Its booming café culture gives you the perfect excuse to grab a coffee, sit outside and watch people. Or if you really want to experience what living in Chelsea is like, you can rent this lovely 1 bedroom flat right in the heart of Chelsea. Located on a quiet residential street, its cheery spring colors and botanical print rugs merge the cozy interior with the outdoors. Plus the ground floor unit has the luxury of an outdoor terrace so you can enjoy the outdoors in spring right from home. With high ceilings and wood floors, this apartment retains the charming details of the period building it's located in, complete with decorative fireplace. You'll feel like a queen as you sink into the comfort of the queen sized bed in its tranquil bedroom after a long day. The double sized sofa bed in the living room conveniently accommodates the "common folk" (aka visitors) as well. If you're inspired, try your hand at cooking a traditional English meal at home in the fully equipped kitchen or head out to one of the many cafes and pubs along King's Road, just 100 meters away.
Speaking of London's famous pubs, if you're planning to acquaint yourself with England's alcoholic contributions to the world, a London gin tour is the perfect tonic — you can brush up on the history of gin, learn about gin making techniques and of course sample lots of the good stuff! If you're already an aficionado, the Soho bar London Gin Club will surely still impress with its offerings of more than 130 of the best gins in the world!
All these intriguing spots and fabulous apartments are the reason everyone is heading across the pond to London in springtime! You can browse our website to see more gorgeous apartments that are available for rent. So start planning and get out and discover London this spring! Happy travels!
Related apartment rental posts from New York Habitat: