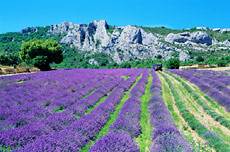 South of France Lavander Fields photo
Watching grass grow has never been as breathtaking as in the South of France in late summer.  From mid July through August, for as far as the eye can see, fields of lavender are in full bloom.  It's a feast for the senses, and New York Habitat can put you in a South of France villa right in the middle of it all.
Mentioned in the ancient Song of Solomon as nard, lavender got its current name from the Romans, who used it in the bath and thus called it after a form of the verb lavare, to wash. Today we are still familiar with bath products, potpourri and essential oils infused with the heavenly scent of lavender; European homeopaths are no stranger to its healing properties as well, particularly for burns and inflammation.
But leave it to the French to create a wide range of uses for the hardy flower, mostly culinary in nature. Here's a tip about Provence: don't be surprised if you find lavender popping up in tea, sugar, honey, candy, pastries, cheese and even chocolate!
While there are organized lavender tours throughout the South of France, nothing quite beats the experience of driving along a dusty country road and happening upon an explosion of color that seems like it was placed there just for you.  And while we might be partial, renting a car also affords you the opportunity to really get away from it all to a true French country retreat.
We have plenty of South of France vacation rentals for you, starting with these ones: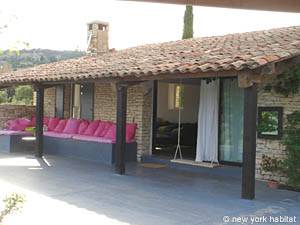 South of France Villa: 5-bedroom rental in Gordes - Luberon - Provence (PR-766) Photo
A
4-bedroom vacation rental accommodaiton in Lacoste, Provence Luberon (PR-564)
puts you in the heart of the Parc Régional du Luberon, a prime lavender area and a hiker's dream. And with all that room, it's the ideal setting for a multi-family getaway with outdoor barbecues, all-day pool parties – and, yes, a wifi Internet connection!
If a more modern flair is your style, round up the gang and head to this 5-bedroom villa rental in Gordes, Provence Luberon (PR-766).  It has all the amenities, a sleek elegance and plenty of room to chill out and admire the art inside – or the miles of beautiful views outside.
You may have seen photos, but pictures simply do not do justice to the natural phenomenon of lavender fields in full bloom. Do you have a favorite lavender product you'd love to find at its source? Tell us about it in the comments! And keep browsing our blog for more information about South of France.