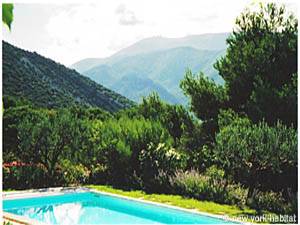 South of France Accommodation: 4 Bedroom Rental in Mollans sur Ouveze, Avignon Region (PR-603)
Tucked away in a residential park facing majestic Mount Ventoux is a gorgeous four
-bedroom vacation villa in Mollans sur Ouveze, Avignon Region (PR-603)
. You will experience an unforgettable stay in the middle of the rich Drôme Provencal region in the
South of France
, which boasts mountains, rivers, pine woods and lavender fields.
Eight people can enjoy the gracious surroundings of this spaciousvacation rental in the South of France, with four bedrooms and three bathrooms. It's full of things that make it like home for your stay: from the large living room with plenty of seating, colorful paintings on the walls and a fireplace, to conveniences like the DVD player, television and stereo. Off the fully equipped modern kitchen is a laundry room with a washing machine. In the living area sunshine comes streaming in through the French windows that lead to the terrace. Outside on the terrace, guests can use the barbecue and dine outdoors on the large table while taking in the gorgeous view.
The most attractive feature of this villa, however, is the resort-like outdoor setting. A private pool is set in a landscaped garden and lends a view of the mountains beyond the house.Pink flowers and vines climb the covered poolside terrace and deck chairs can be brought in or out of the shade. The scene is set for absolute relaxation and tranquility while taking in the surroundings.
Nearby is the Mount Ventoux, known as the "Giant ofProvence," which appears snow-capped year-round. UNESCO has classified it as a Biosphere reserve: The mountain has over four hundred different flowers and over a thousand plant varieties. Visitors prize this area for its walking and hiking paths as well nature-viewing opportunities, while cyclists and climbers also enjoy more challenging trails of this 1,909-meter slope. On the banks of the mountain are picturesque medieval villages and castles of Caromb and Barroux. This region is famous for the wines of the Côte du Ventoux vineyards, and is also not far from the Côte du Rhone wine villages.  Finally,Avignon and all its attractionsis located very close so you will never get bored of the region.
What makes this four-bedroom vacation villa a hidden gem?
A gorgeous landscaped pool and second-floor terrace, both with a view of the majestic Mount Ventoux make this accommodation a hidden gem. Being in such close proximity to the mountain, plenty of nature activities, medieval villages and famous wineries give everyone something to enjoy here. But be careful, we are not responsible of you falling in love with theProvence attractionsand never wanting to go back home.