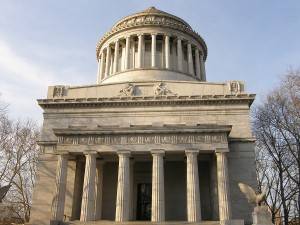 From the whimsical John Lennon memorial in Central Park to the somber, makeshift commemoration surrounding the World Trade Center site, New Yorkers take their memorials seriously. Fittingly, perhaps the most stately presidential north of Washington D.C. lies right here on the island of Manhattan. Despite the fact that General Ulysses S. Grant's tomb and memorial is a subway stop from Midtown, in the bucolic setting of Riverside Park, Harlem, the site still remains off the beaten path. Grant's tomb is an absolute must visit for history buffs, architecture aficionados and anyone looking for a slice of the city not featured on the front page of typical tourist guides. Just as in all of Manhattan, New York Habitat offers apartments in the Harlem neighborhood that Grant's coffined body calls home.
Built at the tail end of the 19th century, Grant's tomb is located among the rolling green spaces and river-front views of Riverside Park, in Manhattan's Morningside Heights neighborhood. The memorial is North America's largest mausoleum and houses the bodies of the Civil War general and 18th president of the United States, and his wife Julie Dent Grant. An imposing exterior is juxtaposed with the ornate warmth of the domed interior. Rays of sunlight illuminate the marble from openings at the top of the dome and a large mural depicting Grant and general Robert E. Lee is perched above the rotunda. Grant's tomb is quite similar in design to that of Napoleon Bonaparte in Paris, France, and provides a wonderful opportunity to view Beaux-Art architecture on this side of the Atlantic.
Below are a few New York Habitat apartments available this spring in the Upper West Side as well as accommodations in Harlem, so that you can rest close to the General:
A studio apartment in the Upper West Side (NY-14820) .
This Room for Rent in the Upper West Side (NY-11483) on a tree-lined block of the neighborhood.
Let us know what you think of Grant's Tomb.