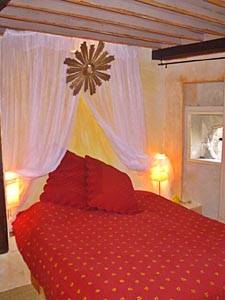 Provence Vacation Rental 4 Bedroom in Les Baux (PR 248) "La Dame à la Licorne"
There are any number of picturesque towns and villages throughout the the region to use as a base for your travels throughout the South of France. But, how would you like to stay in a hilltop fortress town in Provence, population 22, which has been inhabited for eight millennia?
Les Baux de Provence, at the foothills of the Alpilles Provençal mountain chain, is set in white rock on a promontory, which is how it got its name ("baou" means rocky spur in the local dialect). Controlled by Celts, the Lords of Les Baux, the Masons des Comtes de Provence and finally Louis XIII, this stunning piece of French history is 45 minutes south of Avignon and all its events and just 10 minutes from Saint-Rémy de Provence and its lovely attractions.
The view from the old castle is amazing and the Cathédrale d'Images, set in a former stone quarry, offers wonderful exhibitions. Listed as one of the "Most Beautiful Villages In France," Les Baux de Provence has a strong Roman heritage and is also the landscape of famous painters such as Van Gogh, Cézanne and Matisse, who came here to capture the extraordinary light and color of the region.
Standing among the old mansions, historic monuments and ruins of the Cité des Baux, New York Habitat's exclusive hosted 3-bedroom in Les Baux de Provence (PR-248) offers exceptional panoramic views of the surrounding hills and the village from its windows and terraces, as it is one of the highest in the village.
What makes this apartment a Hidden Gem?
The house has an historical and cultural heritage that the owner perfectly knows how to keep alive. There are many things to discover in this family house, as well as among the narrow streets of this fascinating and timeless village that formerly belonged to the Grimaldi of Monaco.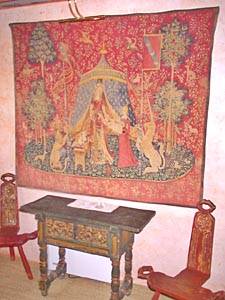 Provence Accomodation 4 Bedroom Chateau in Les Baux (PR 248)
The first bedroom is known as "La Dame à la Licorne" and boasts a large window overlooking the village and the "Val d'Enfer," providing light in the whole bedroom. "La Suite" has a master bedroom and anotherroom with a balcony, which can be used either as a second bedroom or as a study and reminds us that all the houses of the village has been built against the roc itself, in the authentic troglodyte tradition of this village.
And finally, the third and unexpected guestroom is located on the top floor of the house: "Le Bijou." A large French window gives access to a private terrace with one of the most beautiful view of the Cité des Baux.
For more information about the Chateau de Baux check out: