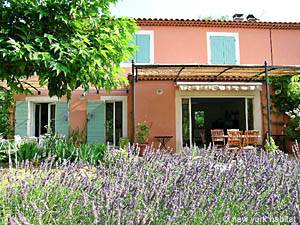 If you're looking to escape the hectic cities of the world, consider renting one of our furnished apartments and villas in Aix-en-Provence.
We have selected this four-bedroom villa (PR-386) in the South of France from our many accommodations for several reasons: positive feedback from previous clients, the large garden and family-sized quarters, and the proximity to the region's and city's transportation network.
This Aix-en-Provence Villa:
Many of our vacation rentals in the South of France are well suited to families looking to spend time in a quieter location, but this apartment offers extra amenities including a first floor master suit, single-sized beds in some of the upstairs bedrooms, and two large bathrooms.
Furthermore, this apartment, set in a residential neighborhood, offers spectacular gardens, a swimming pool, and a patio with a large dining table and BBQ grill.
Feedback about this villa:
The villa created an "enchanted stay."
and
"The owners were charming and helpful."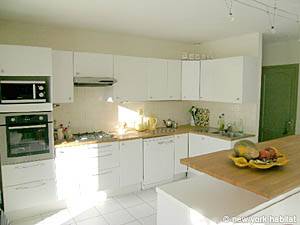 Location of this villa in Provence:
This villa is located two miles from the center of Aix-en-Provence, a city that offers lots of cultural and historical activities. It is located 15 miles from Marseille. Transportation in the area is convenient with the main TGV line running from Paris to Aix-en-Provence in under three hours and car rentals are available directly at the train station.
Furthermore, direct flights from the U.S. are available to Nice Cote d'Azur Airport and connecting flights from international destinations are available to the airport in Marseille.
For more on Provence and the South of France read:
With positive reviews, a central location and a well laid out villa and garden, this offering is perfect to consider for a group looking to explore Provence and the South of France.