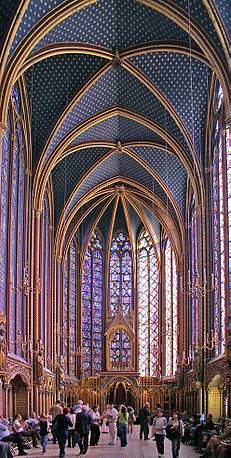 Sainte Chapelle
With so many breathtaking cathedrals in Paris, it's hard not to want to see them all. But touring from one to the next can definitely lead to "cathedral-fatigue."  One chapel that is sure to awe even the weariest of travelers is the divine Sainte-Chapelle.
Located in the heart of Paris on the Ile-de-la-Cité, Sainte-Chapelle is an architectural gem and a national historic monument. Its delicate skeletal structure, ornate vaulted ceilings and brilliant stained glass windows make it perhaps the best example of the French High Gothic style.
The 1st arrondissement cathedral's 6,000 square feet of stained glass is a staggering site. Each window reads from left to right and from top to bottom, telling the story of the Old Testament and the Passion of the Christ – with 1,113 biblical scenes depicted in all. While the chapel was all but destroyed during the French Revolution, nearly two-thirds of the windows are authentic.
Commissioned by King Louis XI in 1241, the cathedral was built to house precious Christian relics, including Christ's crown of thorns, a piece of the true cross and more than thirty other relics that the king purchased from the Byzantine Empire.  In fact, King Louis XI paid almost three times more for the relics than he did the construction of the cathedral. Today, what remains of the relics are housed in the nearby Treasury House of the Cathedral of Notre Dame.
While located in the middle of Paris, Sainte-Chapelle isn't very noticeable from the street. The cathedral is tucked away within the Palais de Justice, and to enter you must turn left at the palace's main entrance gate. The cathedral is open daily from 9 am – 5 pm, but closed on Christmas and New Years Day.
New York Habitat has dozens of vacation rentals in the 1st arrondissement, located in the heart of the city, including:
– This affordable 1-bedroom Vacation Rental in Tuileries- Le Louvre -Les Halles- Chatelet (PA-3934). This beautiful modern apartment is situated near the Rue Saint Honoré, the well known popular street close to Paris' Tuileries gardens with restaurants, stores and bars.  The open layout of the apartment features hardwood floors, exposed beams and stainless steel appliances.
– This charming and colorful 1-Bedroom Vacation Rental  in St Michel – St Germain – Notre Dame – Paris (PA-2435). The railroad-style apartment has a rustic charm with its exposed wooden beams and traditional floor.
Have you ever been to Sainte-Chapelle. Share your comments with us!