If the city of Paris in the spring is sweetly pretty, delicate and pastel, a Parisian autumn is much bolder, crisper and brighter.  The City of Light is bedecked in the blazing oranges, reds and yellows of the turning leaves.  Paris never looks more beautiful than when she is wearing nature's most audacious color palette.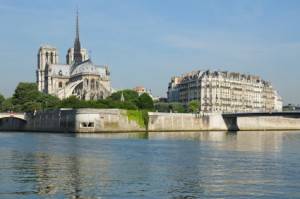 Ile de la Cite, Paris
This time of year is perfect for exploring the city on foot.  The weather carries a pleasant chill – perfect for showing off your chic new Hermès scarf.  On a sunny day this fall, plan on taking a full day to wander through the Île-de-la-Cité, the natural island in the center of the Seine that is home to the Notre Dame Cathedral. All of the 4th arrondissement offers lots to do and to see.
Every tour of Paris makes a stop in the 4th arrondissement at Notre Dame, but there is much more to this charming island than the famous cathedral.  Autumn is the perfect time to enjoy Le Square du Vert-Galant, the teardrop shaped green space situated at the very tip of Île-de-la-Cité.  This beautiful and tiny park glows with the fiery colors of fall and provides an excellent spot to watch the world pass by via boat.  Just past Le Square du Vert-Galant lies the downstream tip of the island.  Settle under the weeping willow that keeps sentry over the Seine to watch the bateaux-mouches and see an unparalleled view of the city.
Stroll along the island to admire many of the regular stops on any tourist's agenda:  the Pont Neuf (New Bridge) which is ironically Paris's oldest bridge, Notre Dame's flying buttresses and gargoyles, the elegant Palais du Justice, and the Place Dauphine, a residential park some lucky Parisians get to call home.  But for a savvy traveler in autumn, a trip to the island that is the epicenter of Paris is not complete without a stop at the Marché aux Fleurs at place Louis-Lépine.
This flower market is the last of its kind in Paris and it caters to dedicated gardeners and casual flower-lovers alike.  In fall, browse through jewel-toned blooms that will bring sunshine to any room or garden.  If you happen to be visiting the Marché on a Sunday, you will find the blooms sharing space with brightly-colored caged birds.  No matter what day you visit the flower market, you are sure to leave with a smile on your face.
Plan your fall trip to Paris today!  Let New York Habitat be your host with one of their stylish vacation rentals in the 4th arrondissement near Île-de-la-Cité.  Check out these apartments within an easy stroll of Île-de-la-Cité:
This charming 2 Bedroom Vacation Rental – Le Marais – Notre Dame – Hôtel de Ville – Paris (PA-877) will be the perfect spot to enjoy your autumn excursion.  With exposed roof beams, beautifully weathered hardwood floors, and eclectic Indian artwork, you won't find a more chic spot for your Paris vacation.
For the solo traveler, this Studio Vacation Rental – Le Marais – Notre Dame – Hôtel de Ville – Paris (PA-3680) will be the perfect pied-à-terre in between adventurous jaunts.  With airy windows and cheery  colors throughout the space, this warm and cozy apartment will welcome you on a blustery fall day.
If you're traveling with a crowd, check out this 4 Bedroom Duplex Vacation Rental – Le Marais – Notre Dame – Hôtel de Ville – Paris (PA-3390) (https://www.nyhabitat.com).  With a beautiful spiral staircase joining the two levels, charming attic bedrooms and exposed beams throughout, this is the apartment your family has been searching for.
What is your favorite way to enjoy autumn in Paris?