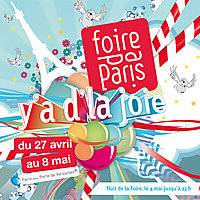 Foire de Paris Logo
Each spring, over 500,000 visitors flock to Paris's Porte de Versailles convention center to enjoy the Foire de Paris—that is, the Paris Home Show.  And yet, there is so much more to this gathering than just items for the home.  2,500 exhibitors arrive to show their goods, which include everything from furniture to tools to organic food to music to cars to gadgets to toys to housewares.  The Foire de Paris, which has been held annually since 1904, is the perfect place to see what's new in any number of fields.
A visit to the Foire de Paris is a treat for the entire family. This year's show slogan is "Y'a d'la joie!"  Roughly translated, it means "There is joy!" And truly, the show is all about making your world a pleasanter place to live in.  The fair is broken into three exhibitions: Home and Environment, Well-Being and Leisure, and World of Cultures.  Whether you are looking to organize or beautify your home, improve your health and recreation, or simply enjoy food, arts, clothing, and culture from around the world, the Foire de Paris offers you more options than you can imagine.
In addition to the vendors who can and will sell you anything under the sun, you will also find over 500 inventions on display.  Independent inventors and entrepreneurs bring their innovative new products to Foire de Paris each year in order to compete for the prestigious Concours Lépine prize.  This annual competition was created in 1901 by Louis Lépine, an inventor and Paris's Prefect of Police from 1900-1913.  In 1904, the Foire de Paris show became the permanent home for the Concours Lépine.  Although the prize was originally intended for small toy and hardware manufacturers to create innovations within their fields, it has grown into a celebration of advances of any kind.  Some of the most famous winners include the invention of Braille, the ballpoint pen, and the artificial heart.  Make sure you take the time to see what gadgets and ideas that are on display today that will shape the world of tomorrow.
The Foire de Paris runs this spring from April 27 to May 8 at the Paris Expo in Porte de Versailles.  Friday, May 6 is the Nuit de la Foire, when the show will be open until 11 pm and will feature live music and dancing.  You do not want to miss this opportunity to visit Foire de Paris 2012!
We have several vacation rentals in Paris within easy distance of Porte de Versailles.  Just in time for the Home Show, start your search for your home away from home with one of these furnished apartments:
Feel chic and stylish in this 1 Bedroom Vacation Rental – Grenelle – Paris (PA-4155).  Featuring clean modern lines, bright colors, built-ins, and gorgeous hardwood floors throughout, this apartment will make the perfect pied-a-terre in Paris.
You'll love the international feel of this Studio Vacation Rental – La Motte Picquet Grenelle – Paris (PA3669).  Furnished and decorated with eclectic pieces, this flat offers sunny windows and a bustling neighborhood.  You may never want to leave!
Stay for a while at this 1 Bedroom Vacation Rental – Champ de Mars – Eiffel Tower – Paris (PA-3614).  Putting you close to the Eiffel Tower and the Hotel des Invalides in addition to Porte de Versailles, you'll feel like you're in the center of it all!  Offering you a luxurious modern bathroom, plenty of light-filled windows, and lovely hardwood floors, this apartment is just a little slice of Parisian heaven.
What is your favorite type of exhibit at Foire de Paris?