Every schoolchild is familiar with the story of Cinderella—or Cendrillon, as she is known in France.  But you will see an unforgettable retelling of this classic French fairy tale when you spend a night at the ballet at Paris's Opéra Bastille this December.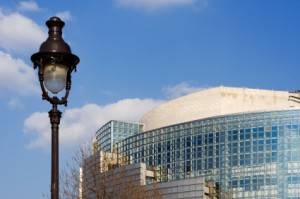 The Bastille Opera in Paris
Rudolf Nureyev set this ballet to the music of Sergei Prokofiev back in 1986 for the Paris Ballet to perform, but Nureyev added a completely new twist to the story.
This Cinderella is set in a 1930s-era Hollywood
.  Young Cendrillon dreams of becoming a star of the silver screen, and her hopes are thwarted by an evil stepmother.  Of course, she has magical help and intervention through the powers of a movie producer.  Cendrillon dances her way through sumptuous film-inspired sets, including the classic films Metropolis and King Kong.  Cendrillon of course ends the ballet happily in the arms of her Prince Charming and with a bright future of stardom ahead of her
You will never see another telling of Cinderella quite like this one.  It has all the magic, mystery and innocence of the classic tale, plus the glamour and romance of the golden age of film.
Cendrillon will be showing nightly at Opéra Bastille in Paris's 12th arrondissement starting December 6 until the end of the year.  If you have never experienced the wonder of this sleek and modern opera house, now is the perfect time to visit.  With over 2700 seats, each with a completely unrestricted view of the stage, as well as an advanced stage setup that allows sets and cast to move on and off the stage with absolutely no break in the magic of the story, Opéra Bastille offers a modern setting for the ancient arts of dance and music.
Come to Paris this December and step back in time with Cendrillon at Opéra Bastille.  Tickets are on sale now, and New York Habitat has wonderful Paris  apartment rentals available so that you can experience your very own modern fairy tale.  Check out these apartments in the Bastille area that will make your trip magical:
Feel like a princess in this 2 Bedroom Vacation Rental – Bastille – République – Paris (PA-3007).  With unparalleled views from the balcony and large bedroom windows, a profusion of gorgeous plants inside and out, and two decadently appointed bathrooms, you will never want to leave this spacious vacation rental.
This 1 Bedroom Vacation Rental – Bastille – République – Paris (PA-3911) is the perfect spot to curl up with a book of fairy tales.  With floor-to-ceiling bookshelves, deep and comfortable sofas and chairs, and a beautiful open floor plan, any bibliophile would love to spend a vacation here.
Bring the whole family to this palatial 3 Bedroom Loft Duplex Vacation Rental – Bastille – République – Paris (PA-3530).  This light and airy retreat features beautiful hardwood floors, a plant-filled courtyard, and the fun and freedom of two loft bedrooms.
What's your favorite night of entertainment in the city? Share your tips about Paris with everyone