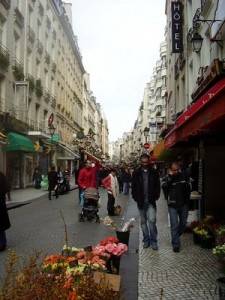 Montorgeuil: Paris
If you want to experience an authentic and colorful slice of Paris, don't miss the Montorgueil neighborhood. Five minutes from busy Châtelet-Les Halles, this pedestrian food-lovers paradise is perfect for a relaxed afternoon stroll.
Located in the 2nd arrondissement, the old market streets are devoid of cars, but crowded with locals shopping for some of the best fresh food in town. The main drag is rue Montorgueil, lined with fruit-and-vegetable stands, bakeries, butcher shops and cheese stores. Nearby rue Tiquetonne and rue Dussoubs also have their share of boutiques and beautiful old architecture. If you are renting an apartment in the 2nd arrondissement, you could test your French cooking skills at home, using the wonderful produce you just bought down the street. Here are three accommodation choices in this fun quartier:
–A studio vacation rental in the Montorgueil – Marais – Les Halles area (PA-765)
–A one-bedroom vacation rental in the Montorgueil – Marais – Les Halles area?(PA- 2620)
If you are too lazy to make your own desert, just head to Maison Stohrer, a pastry shop opened in 1730 by Nicolas Stohrer, who started his culinary career in the King of Poland's court, where he reportedly invented the now popular "Baba au Rhum", a light cake soaked in rum. Other specialties include the "Religieuse", cream puffs filled with flavored pastry cream and a gorgeous wild strawberry tart.
There are also plenty of attractive bistros for those who want to forgo cooking altogether. "Au Rocher de Cancale" has been specializing in oysters since 1846 and it is still a good place for shellfish and traditional food. For another typical French delicacy – snails – try "L'Escargot Montorgueil", which has been serving escargots for over a century.
Have you recently discovered other pedestrian areas other than Montorgueil worth exploring in Paris? Let us know in the comments below!