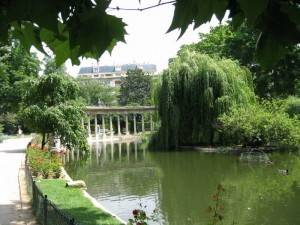 Parc Monceau Photo
Few things are more enjoyable than whiling away an afternoon in one of Paris' many parks. For the ultimate in outdoor lounging, head to Parc Monceau, located on the outer edge of the posh 8th arrondissement. Nestled among some of Paris' most elegant mansions, Parc Monceau charms everyone who steps foot inside its tall, gold-tipped gates.
Unlike other Parisian parks designed in the formal French style, Parc Monceau is more unconventional in layout. Paths wind this way and that, through patches of lush, overgrown wilderness and wide lawns. There's a random assortment of statues and sculptures scattered throughout the park as well, including a model Egyptian pyramid, Chinese fort and even a crumbling Greek colonnade nestled near the pond. Large weeping willows complete the Monet-like landscape, and in fact, Monet did several paintings of the park.
Commissioned in 1769 by the anglophile, Duc d'Orléans, the park was originally intended to be an English garden set in the middle of Paris. The French Revolution derailed his plans but the park was purchased by the city in 1860 and transformed into what it is today. The leafy greenspace is ideal for picnicking, jogging and bicycling and even working, as the park offers free Wi-Fi.
Want to explore this romantic urban refuge? New York Habitat has hundreds of gorgeous vacation rentals in the 8th arrondissement, near the enchanting Parc Monceau, including:
This airy 2-Bedroom Vacation Rental in Champs Elysees – Ternes – Paris (PA-3348). Enjoy the mix between modern and classic amenities and big living room with plenty of sunlight.
This conveniently located Alcove Studio Accommodation in Opera – Le Louvre – Paris (PA-3291). The contemporary apartment features parquet floors and high ceilings.
Have you ever been to Parc Monceau? Please share your comments with us!