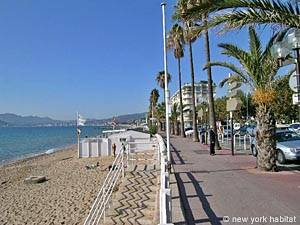 Photo of the Beaches of Cannes
While Cannes events are most well known, like its international film festival in May, visiting this beautiful port city any time of year makes for an unforgettable vacation.  Because of its mild winter climate, now is the perfect time to discover this quaint Mediterranean town.  Without the summer crowds, wandering Cannes' narrow streets and strolling along the azure shore will make you feel like you're discovering some of the French Riviera attractions that only a few know.
Come with friends to our 4 Bedroom Furnished Vacation Rental in Cannes, French Riviera (PR-739).  Five minutes in a car or bus brings you to the center of town where you can explore Cannes' main boulevard, La Croisette.  Along this two kilometer-long boardwalk hugging the sea, you can browse the nicest boutiques in Cannes and indulge in fabulous restaurants featuring regional French cuisine. Here in May, the Cannes Film Festival kicks off the season for music and art festivals that last all summer.
If you're looking for a more cozy place to spend your vacation, consider this 1 Bedroom Furnished Vacation Rental in Cannes, French Riviera (PR-472). (With a Winter Discount until March 20, 2010!)  Located on Boulevard Jean Hibert, the apartment overlooks the Mediterranean with Les Iles de Lérins in view just off the coast.  A short boat ride from your lodging brings you to Ile Ste. Marguerite and Ile St. Honorat where the aromatic pine and eucalyptus trees complement the magnificent view of the French Mediterranean seashore.  On Ile Marguerite, you can visit the prison cell where The Man in the Iron Mask was held captive in during the 17th century at Fort Royal. From Marguerite, hop on a boat to the nearby Ile St. Honorat and notice the reverence that marks this land founded by monks in 400 AD.  Today on the island, you can visit many churches as well as a monastery that Cistercian monks have occupied since 1869.
If you prefer to stay in a more lively part of town, look into the 3 Bedroom Furnished vacation rental in Cannes, French Riviera (PR-737) located on Rue d'Antibes.  With a gorgeous modern decor and a terrace that overlooks a communal garden, this apartment is perfect for anyone looking to spend time in Cannes. Tuesday through Sunday, wander on foot and experience the French open-air market at the Marché de Forville.  This is the ideal place to buy fresh fruits, vegetables, and herbs, feast on local seafood, discover charming artisan shops and pick up great souvenirs to bring home to friends and family.  Don't forget your camera! You're sure to see lots of bright colors and get a real taste of the culture of the South of France.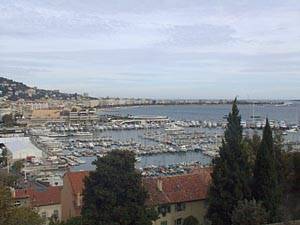 Cannes Harbor
Only a short distance from the Marché de Forville is the
Musée de la Castre, a museum inside a medieval castle seen upon the hills of Vieux Cannes
.  You can enjoy its permanent collections of Mediterranean artifacts and indigenous art from Oceania, Africa and Asia; you can also opt to do a walking tour around Vieux Cannes to learn of its rich history and culture.
Wherever you choose to stay in Cannes, you can be sure to truly experience the French Riviera in a lively town with limitless adventures. Browse our long list of rental possibilities in the South of France, take advantage of Winter travel deals, and discover Cannes for yourself!
Been to Cannes before?  What did you like?  What do you recommend? We have a whole section of South of France travel tips since we want to make sure you don't miss anything on your next trip!