Père Lachaise Cemetery, Paris Photo
Most people would be hard pressed to name what American rocker Jim Morrison, Irish playwright Oscar Wilde, and French singer Edith Piaf have in common, but the departed stars are linked in one indelible way.
They're all buried at Père-Lachaise, the largest cemetery in Paris, and arguably the most famous in the world.
Located in the 20th arrondissement, Père-Lachaise is massive, spanning nearly 109 acres. Visitors can spend hours strolling the grounds and paying their respects to acclaimed writers, artists, musicians and philosophers, including Marcel Proust, Guillaume Apollinaire, Colette, Gertrude Stein, Sarah Bernhardt, Honoré de Balzac and many others.
Referred to as "la cité des morts" – the city of the dead – the cemetery attracts nearly 2 million visitors annually. While its famous occupants are certainly the main draw, Père-Lachaise could easily double as a park. Its rolling hills, leafy trees and ornamental sculptures are beautiful. Many visitors read, write and even picnic within the cemetery walls.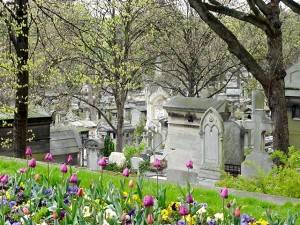 Père Lachaise Cemetery Picture
So why are so many famous people buried at Père-Lachaise? The cemetery has a rather unique history. At the time of its founding in 1804, cemeteries were banned within the city limits of Paris due to public health concerns, and graveyards were forced to the outskirts of town. Père-Lachaise wasn't a popular choice because it was considered too far away.
In an attempt to increase the cemetery's stature, administrators relocated the remains of two very famous figures – La Fontaine and Molière – to Père-Lachaise, causing wealthy Parisians to clamor for a spot next to them.
The trend has continued for more than 200 years!
Getting to Père-Lachaise is easy. The main entrance to the cemetery is located on Boulevard Menilmontant. The closest Metro stop is Philippe Auguste on Line 2. Despite its name, the Père-Lachaise stop on Line 3 is actually further away. For more visitor information, visit the Père-Lachaise Cemetary Website.
New York Habitat has a wide range of vacation accommodations in the 20th arrondissement, near Père-Lachaise, including:
– This Studio Vacation Rental in Gambetta – Père-Lachaise (PA-2217). The apartment features a lovely balcony adorned with flowers and other plants – a true oasis in the city.
– This exquisite One-Bedroom Duplex Vacation Rental in Gambetta – Père-Lachaise (PA-2147). This duplex is vast and spacious thanks to the high ceiling, and you will certainly enjoy the large windows giving on the nearby Hausmannien rooftops combined with a comfy balcony.
Have you ever been to Père-Lachaise? Please share your comments and experiences with us!