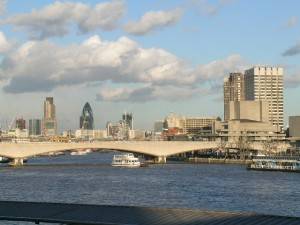 Thames River London Picture
If you're looking for one-stop shopping for culture in London, look no further than the South Bank. This part of London, near Waterloo Station in Lambeth, boasts the National Theatre, Royal Festival Hall and British Film Institute among other attractions along the river. Stay in a New York Habitat apartment and you'll be in the middle of the action.
With three separate theatres and a diverse repertoire, the National Theatre has something for theatergoers of all kinds. This season Alan Bennett's play The Habit of Art is one of the hottest tickets in town and a new production of London Assurance with Fiona Shaw and Simon Russell Beale is coming up in March. If you don't have time to see a show, be sure to check out their theatre bookshop and live music in the foyer every night at 5:45. On Valentine's Day they'll be hosting an outdoor screening of The Apartment on their Fly Tower, with drink specials at the bar.
If you'd rather be indoors for Valentine's Day, head to the Royal Festival Hall for their St. Valentine's Day Massacre, an evening with the Irrepressibles, a performance orchestra and London's finest cabaret stars. The Royal Festival Hall hosts some of the best concerts in town and is the home of the London Philharmonic. If you're bringing your family to London, be sure to check out Imagine, a children's arts festival running from February 6-March 2.
Next door, the British Film Institute South Bank currently features a retrospective of Japanese filmmaker Yasujiro Ozu alongside films inspired by his work. And in February it will be featuring the films of Katherine Hepburn and Spencer Tracey. Be sure to save time for a drink or meal in the brightly upholstered armchairs at the benugo bar and kitchen.
The Hayward Gallery is undergoing renovations until May 2010, but the nearby Dali Universe features a Picasso exhibition and the gallery@oxo always has thought-provoking exhibitions, which make a perfect break during a walk along the Thames on your way to the Tate Modern or Shakespeare's Globe, or other destinations further east.
New York Habitat has plenty of apartments in Lambeth, within walking distance of the South Bank. Here are a few:
This charming 2 Bedroom Townhouse Vacation Rental in Lambeth London (LN-525) on the ground and first floor of a period terraced house has a modern kitchen and bathroom.
This 1 Bedroom Vacation Rental in Lambeth – London (LN-873) near Lambeth Bridge features a double sofabed and weekly maid service and a 24 hour concierge.
Have you seen any good shows at the National recently? Or have any suggestions for a good place for a drink or meal along the South Bank?