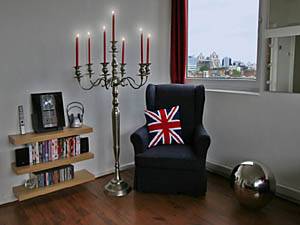 London Vacation Rental 2 Bedroom in Bermondsey (LN-409)
In the summer, there's no place better to spend your time—without spending a lot of money—than on London's South Bank. Whether you stay for a week or a month, you'll find free things to see and do there every day—and New York Habitat will also help you save with rental accommodations in the area, from an apartment in Vauxhall to a vacation rental in Southwark.
The warm weather brings with it a slew of summer festivals on the South Bank—and many of the shows and activities don't charge admission. There's free African and Caribbean dance outside Royal Festival Hall, as well as Brazilian, jazz, classical, swing and alternative music as part of late-night Fridays and lunchtime concerts. Look for live theatrical performances, outdoor movie screenings, comedy and acrobatics, and a temporary funhouse for all to enjoy.
Traveling with the kids? You'll want to check out the Terrible Infants and Potted Pirates Workshop at the South Bank Centre in Lambeth for free live plays, improv and puppetry. Another big draw is the popular "appearing rooms" fountains for kids to play in—but be sure to bring along a towel, bathing suit and change of clothes from your nearby New York Habitat flat.
Stroll a bit further along the Thames and you'll come to the impressively housed Tate Modern in Southwark, with free permanent exhibits, changing video installations and a temporary bird-watching booth set up outside to see the peregrines (similar to falcons) nesting in its chimney. Close by is The Scoop, a sunken outdoor theatre that hosts free evening shows. This year's schedule includes Greek drama and kids' productions. If you keep an eye open, you may also catch the spectacular river pageant floating past as part of the ongoing Story of London festival.
If all of this non-stop, no-cost action makes you hungry, stop by the summer food market for some free samples of local, organic and traditional English foods. Then, with all the money you've saved, spring for a refreshing shandy, Pimm's Cup or pint at the historic, riverside Anchor Pub.
To stay close to South Bank this summer, consider these New York Habitat vacation rentals:
· A gorgeous, modern 2-bedroom rental in Bermondsey, Southwark (LN-688) with hardwood floors and large floor-to-ceiling windows that allow natural light to brighten the space. Here you will have access to WiFi Internet and telephone, as well as weekly cleaning services.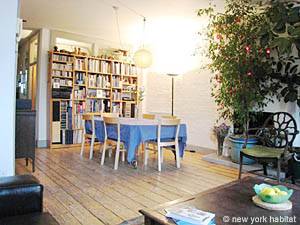 London Apartment 2 Bedroom in Lambeth (LN-711)
· A stunning, modern 2-bedroom vacation rental in Lambeth (LN-711) on the second floor of a converted coffee or tea warehouse built originally in 1850. This chic, loft-style space has its walk-up entrance in the courtyard and comes with double beds, whitewashed brick walls, fireplace, Baltic pine flooring, and a roof terrace with seating under a vine-covered pergola. The flat sleeps five, but a baby's crib can be supplied at no extra cost.
To get the most bang for your buck (or your British pound), stay in a New York Habitat accommodation near South Bank this summer. For a full itinerary, go to http://www.southbankcentre.co.uk/ —and leave a comment below to let us know which free events interest you!
South Bank not for you? Check out our other article about great deals in London: