This week we share with you a video of another New York neighborhood, the East Village, which brims with history and intrigue. To understand this neighborhood, you must first look west to Greenwich Village and West Village.  Greenwich Village was once the epicenter of artists, musicians, poets, beatniks and hippies.  In the 60s and 70s, many of its residents started migrating directly east and the East Village was born.
The East Village roughly runs south from East 14th Street to East Houston Street. Avenue D forms its eastern boundary and Fourth Avenue forms its western boundary.
Click above to watch this video: East Village Video Tour (6:42)
Within these boundaries, you'll find a bevy of bars, clubs, cafes, shops, and restaurants.  The best way to experience this lively neighborhood is to live in it.  So instead of staying in a boring hotel room, rent a fully furnished apartment right here in the East Village from New York Habitat.  Vacation rentals are the perfect way to live like a true East Villager.
A great choice is this East Village, New York  one bedroom apartment (NY-10048).
There's also this great New York studio apartment in East Village (NY-11967).  It comes equipped with a flat screen TV, cable, a stereo and WI-FI Internet.
Tompkins Square Park: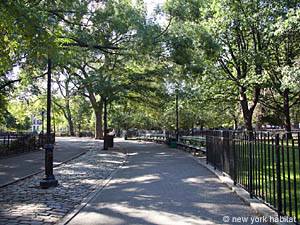 Thompkins Square Park photo
Every neighborhood needs a park. The East Village is no exception with its major park being Tompkins Square Park.
Over the years, Tompkins Square Park has served as a place to voice dissent. There were demonstrations in 1857 and 1875 about the lack of jobs as well as protests about gentrification in the 1980s and 1990s.
Today, the park has been reconstructed and it now includes a state-of-the-art dog run, new playgrounds and several monuments. Tompkins Square Park continues to serve a diverse community, providing a peaceful, meditative environment within the bustle of city life.
The Hare Krishna Tree:
While you're in Tompkins Square Park, make sure you check out the Hare Krishna Tree.  It was beneath this tree, on October 9, 1966, that the first recorded outdoor chanting session of the Hare Krishna mantra was held outside of South Asia.
The First Christmas Tree lights – 269 E.10th Street
The first home to have a Christmas tree with electric lights was in the East Village at 269 E.10th Street in 1883. It was owned by Edward Johnson, an associate of the famed inventor Thomas Edison.

Punk Rock, Iggy Pop at Christodora House – 145 Avenue B.
If the West Village is known for folk music, the East Village is the home of the punk movement in the United States.  Artists such as the Ramones and the godfather of punk, Iggy Pop.
Speaking of Iggy Pop, on Avenue B you'll find the Christodora House.  Built in the 1920s as a settlement house to help the poor, the conversion of the Christodora into upscale condominiums in 1986 sparked anti-gentrification demonstrations. One celebrity resident: punk music pioneer James Osterberg – a.k.a. Iggy Pop, wrote the album "Avenue B" here in 1999.
Trash and Vaudville – 4 St Mark's Place
If you are a true punk rocker or are just looking to dress the part while you're in the East Village, there's one place to go – Trash and Vaudville on St. Mark's Place.  You'll find vinyl, rubber, leather, lace and old school punk plaid.  And if you're lucky you'll get to meet long-time store manager, Jimmy.  If you see him, tell him New York Habitat sent you.
The Charlie Parker Residence – 151 Avenue B
Punk wasn't the only musical style found in the East Village.  At 151 Avenue B you'll find a brownstone built in 1849.  This brownstone was once home to Charlie Parker, the co-founder of the modern jazz style, bebop.  In fact, the Charlie Parker Jazz Festival is held every year just across the street in Tompkins Square Park.
The Village Voice – 36 Cooper Square
The first and arguably best known of the arts-oriented tabloids here in New York is the Village Voice.  Originally headquartered in Greenwich Village, it is now located at Cooper Square and Bowery.  The Village Voice is freely distributed all over Manhattan and is a great way to find out what's going on in the city.
Cooper Union – Cooper Square and Bowery
One of the most prestigious design and engineering schools in America is The Cooper Union.  The school is rich with history.  Many historical American figures have spoken here – from Abraham Lincoln to Barack Obama.
Well, I hope you've enjoyed our brief tour of the East Village.  And of course, there's a lot more to see and do here. Remember, New York Habitat is your connection to some of the best vacation rentals in the East Village and furnished apartments all around New York. If you've got some must-see places in the East Village, be sure to share them in the comments below.