In this video we will tour another one of New York 's neighborhoods known as East Harlem.
Continuing with our series of Harlem video tours, we will take a look at East Harlem, the easternmost Harlem neighborhood. The borders of East Harlem are the East and Harlem Rivers to the east and north, East 96th Street to the south and 5th Avenue to the west.

East Harlem, New York: Video Tour(5:47)
History:
East Harlem has a long history as being home to immigrant groups. In the late 19th century, as Harlem grew up, East Harlem became the local home to many Italian immigrants and became known as Italian Harlem. In the early 20th century a growing population of Puerto Rican immigrants began to make their homes in the neighborhood and by the end of World War II they had become the dominate population in East Harlem. As a result Italian Harlem became known as Spanish Harlem or El Barrio. Today East Harlem still has its memories of Italian Harlem on Pleasant Avenue and still has the feel of Spanish Harlem throughout, but the neighborhood has become more diverse over the past 20 years while retaining its heritage.
Attractions in East Harlem:
El Museo del Barrio – 104th St. & Fifth Avenue
The Museo del Barrio is  a museum founded in 1969 by teachers, parents and community activists It was created as  a place to feature all types of art from Latin America and the Caribbean. Furthermore, the museum offers classes and lessons about the arts of Latin America and the Caribbean, including music and culture, to the children of this neighborhood.  El Museo del Barrio is located at the northern end of Museum Mile along Fifth Avenue.  If you decide to walk down Fifth Avenue from East Harlem, you will find many of New York City's major museums.
Duke Ellington Circle – 110th St. & Fifth Avenue
There is a statue of Edward Kennedy "Duke" Ellington at the corner of 110th Street & Fifth Avenue.  It is the first monument in New York City dedicated to an African-American.  Duke Ellington was a musician, composer, orchestra conductor and one of the most influential artists in the history of jazz music.
The monument is made out of bronze and you can see Duke next to his grand-piano, supported by 3 very tall columns, each topped by nude caryatid female figures, representing his muses.
Tito Puente Way – East 110th Street
Did you know that many famous musicians who contributed to the modern "Latin Jazz" style of music were born and raised in Spanish Harlem?  One of them is Tito Puente, who was born in East Harlem in 1923.  By playing piano, clarinet, drums and timbales, he was able to fuse mambo, jazz and afro-Cuban drumming and take it to a higher level.  In August 2000, East 110th Street was renamed Tito Puente Way in honor of the King of Mambo.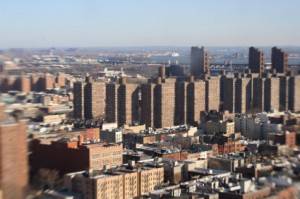 East Harlem, New York

Machito Square – East 111 Street
One block away from Tito Puente Way, there is a cross-road renamed "Machito Square" in honor of Cuban born musician, Frank "Machito" Grillo, who was Tito Puente's predecessor as the King of Latin music.  Let's not forget Celia Cruz, the queen of salsa who sang in many concerts along with Tito Puente and Machito.
Latin Music and Food
Spanish Harlem is known for its many musicians, like Eddie & Charlie Palmieri, Ray Barretto, the Spanish Harlem Orchestra and many more.  You can catch some live Latin music and delicious food at various venues, like:
"Amor Cubano" at 2018 Third Avenue & 111th Street;
"Creole Jazz and Supper Club" at 2167 Third Avenue & 118th Street
"Camaradas El Barrio" 2241 First Avenue, between 115th & 116th Streets
Patsy's Pizzeria – 2287 First Avenue, between 117th & 118th Streets
Some remnants of the Italian immigration are still visible in East Harlem. Patsy's Pizzeria was founded in 1933 by an Italian immigrant named Pasquale Lanceri.  When it opened it was one of the first pizzerias in New York City that started selling pizza by the slice. The Pizza is famous for being cooked in coal ovens and is now available at 7 locations throughout the city but to get the original experience there is nothing like visiting the original location in East Harlem.
Rao's Restaurant – 455 East 114th Street, between First Avenue & Pleasant Avenue
Not far from Patsy's Pizzeria you cannot miss Rao's Restaurant. It opened in 1896 and is known for its Southern Italian cuisine and tomato sauce, which you can buy and take with you.  The walls of this restaurant are covered with photos of celebrities who have dined here, including Jerry Lewis, Woody Allen, Muhammad Ali and many more. Rao's Restaurant is also famous because it was featured in the show the Sopranos.
All Saints Roman Catholic Church – 47 East 129th Street
The Church of All Saints was designed in 1892 by the same architect who designed St. Patrick's Cathedral, located at Fifth Avenue & 51st Street.  In fact, it also called the St. Patrick's of Harlem.  It was built in Venetian Gothic style, with details in terra cotta, hand-carved pews and stained glass.
A great way to experience East Harlem is to rent a furnished apartment or a room in a shared house.  New York Habitat offers a number of nice apartments throughout Harlem.
Accommodations in East Harlem:
One choice is this centrally located 1-bedroom furnished apartment (NY-12780) in East Harlem  located on East 111th Street. The apartment is decorated and furnished with a modern appeal and has an open kitchen with a bar/counter area. This accommodation also offers cable TV and wireless Internet.
Another apartment in this neighborhood is this furnished 2-bedroom apartment (NY-12870). The apartment has access to the fourth floor balcony.
I hope that our tour of East Harlem will make you want to dance some salsa and eat some good Latin food!  Remember that East Harlem is only a small part of the greater Harlem area so make sure you check out our other video tours of Harlem.  If you know of other fun places in East Harlem, leave us a quick note in the comment box below.
It has been fun showing you East Harlem and we hope to see you soon in New York City.