Planning on heading to New York in the New Year to study, for work or just for some fun? The East Village is a great location to indulge in some of New York's greatest bars, restaurants and clubs. But, rather than spending all of your money at all of these places why not search out some great happy hours and deals so that you can save some bucks to shop and visit all of the sites that the East Village has to offer.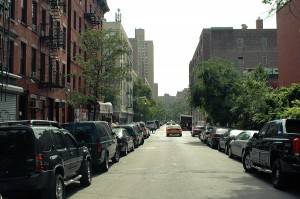 New York's East Village

Daily Deals:
If you're not familiar with daily deal sites, they have become quite the craze in New York; offering deals on a daily basis in many of New York's neighborhoods. They are a great way to find offers of 50% or more off of dining options. If you're willing to try something new or different this is a great way to get a deal, but you have to be flexible because there is usually only one offer per day. Checkout:
Living Social Downtown Manhattan:  Living Social offers a list of deals which are tailored to people living or staying in downtown Manhattan which includes the East Village as well as Greenwich Village and the Financial District. You might need to check back several times to find the perfect deal, but you can start to search before your trip as most offers are good for a few months after purchase.
Groupon Now: Groupon Now offers instant deals good just for the day you are looking so if you want a great deal on lunch enter your East Village apartment address and you can find out the nearest deals.
East Village Apartment Deals:
Check out this bright studio apartment right on 14th Street at the intersection of Union Sqaure and the East Village (NY-14884) which includes a kitchenette, bright window and a freshly renovated bathroom.
Or another option is right in the East Village is a one room apartment rental for just $1700 a month (NY-14882), its small but perfect for enjoying the East Village or Union Square area.
Happy Hours:
What better way to unwind after a long day at work or visiting the sites around New York then enjoying a cocktail at Happy Hour. Check out a few of our favorite locations including:
Destination 211 Avenue A: This is a cool local bar in the heart of the East Village. The bar has a great half price happy hour until 8pm with 50% off specials. If your adventurous try a jello shot or a John Daly.
Common Ground 206 Avenue A: Heres a great spot to unwind, on tip of a great selection of beers and cheap happy hour prices, they have board games and Panini sandwiches.
Well, we hope these East Village deals get you in the mood to head to New York City. Hopefully we'll see you soon at an East Village apartment or Happy Hour.
If you have a favorite East Village deal share it with everyone in the comments section below.