This New York Habitat Apartment Rental Tips Video will share reasons why skipping a hotel and booking a vacation rental for your next trip to London is a great idea.
Click above to watch this video:Why rent a Vacation Rental Apartment in London (5:51)
With more than 15 million international tourists each year, it may be difficult finding accommodations in London. Hotels can be very costly and fitting an entire family or group under one roof can often be quite challenging. Our company offers hundreds of vacation rental apartments in London, creating a solution to all of the aforementioned problems.
Vacation rentals are furnished apartments that are rented for any time period between 1 day to less than 1 month.  A full calendar of availabilities for every one of the vacation rentals that we offer can be found on our website.
We also offers furnished apartments that can be rented monthly, but today we will be discussing vacation rentals.
So "Why book a vacation rental in London from New York Habitat?"  Here are a few reasons: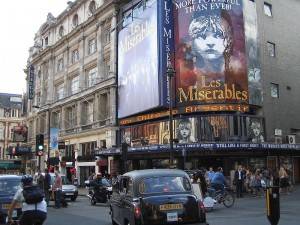 Photo of London UK
• 
Vacation Rentals are cost efficient!
They cost less than a hotel, plus you get an entire apartment.
• 
Vacation Rentals are more spacious
–  no need trying to cram the whole family into a hotel room. The majority of our apartments have a separate living and sleeping area…not to mention a kitchen.
• 
Apartments have a fully equipped kitchen
– dining in restaurants can get very costly. With a kitchen, it is just like cooking at home making it possible to eat healthy and save money!
• 
Vacation Rentals can fit an entire family or group of friends
. Staying in separate hotel rooms can be less fun and more expensive. Why not have everyone together?
• 
Act like a local
– No more walking out of hotel lobbies.  Walk out of your front door, directly onto the streets of London. It's just like you live there!
•
Hang on to your keys
— making your vacation rental a home away from home.
• 
No hidden fees
–  in contrast to a hotel, there are no phone bills and you will not receive an invoice for drinking that beverage from the mini fridge. When you rent a vacation rental, any utility charges are included and what you put into the refrigerator is up to you.
It is evident that there are many good reasons for choosing to rent a vacation rental over a hotel room in London.  There are other benefits that many London apartments offer, as well:
• Laundry – Airlines are continuing to reduce the permitted size of carry-on baggage and raise the rates for extra luggage; light packing has almost become a necessity on vacations.  Many of our vacation rentals have laundry facilities.
• Gym – If you're the type to work out during your vacation, we can find you a vacation rental with access to a gym.
Be sure you let us know exactly what qualifications you are looking for and we'll help find you the vacation rental that best suits your needs!
There are many ways by which you can contact us.  You can fill out a London Vacation Rental request form on our website and an agent will respond to you within 24 hours or less. E-mail inquiries can be sent to info@nyhabitat.com or you can call us directly at +1 (212) 255-8018 and be transferred to an agent who will speak to you directly.
With all of these advantages explained in this Apartment Rentals Tips video, why not reserve a vacation rental in London today?
Any other advantages to booking a vacation rental that you can think of? Please share your thoughts in the comments section below.