In  today's New York Habitat Apartment Rental Tips Video  we will be looking at reasons why you should skip the hotel and book a vacation rental for your next trip to New York.
With over 9.5 million international visitors per year, New York is a city filled with tourists and finding an accommodation can be a challenge.  Hotels rooms are expensive and traveling as a family or a group can be challenging if you'd all like to sleep under the same roof. With 100's of vacation rental apartments in New York, New York Habitat is a perfect solution to all of these problems.
Click above to watch this video: Why book a vacation rental in New York from New York Habitat (5:30)
Vacation Rentals are furnished apartments that are rented from 2 days to under 1 month.   We've even got some vacation rentals that can be rented for one-night stays.  You'll find a full calendar of availabilities for each of our vacation rentals on our website.
New York Habitat has also longer-term furnished apartments in New York and rooms in shared homes, but today we will speak about vacation rentals.
So "Why book a vacation rental in New York from New York Habitat?"  Here are some great reasons:
• Vacation Rentals are Economical! You get more for your money and pay less than a hotel. Vacation Rentals have more space.  – Forget the cramped hotel room.  Most Apartments have a living and sleeping space plus a kitchen.
• Apartments have an equipped kitchen – Eating out three meals per day can get expensive. With a kitchen, you can cook at home, eat healthy and save money!
•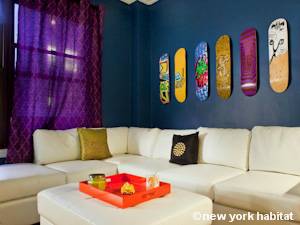 New York Accommodation: 2 Bedroom Apartment Rental in Midtown East (NY-15117)
Vacation Rentals are big enough for the whole family
and/or friends to stay together.   Why stay in separate hotel rooms when you can all stay together under the same roof?
• Feel like a local – Don't walk out of the hotel lobby, walk out of your front door, onto the streets of New York.  You're a local now!
• Keep your keys like at home – Make a vacation rental your home away from home.
• No hidden fees – Unlike hotels, you won't be hit with phone bills, or an invoice for drinking that bottled water from the fridge.  With Vacation Rentals, all utility charges are included and you decide what to stock in your fridge… at local market prices.
So those are a few really good reasons to book a vacation rental over a Hotel room in New York.  And if you're coming to New York, there are some other great options or "extras" you can get.
• Houses – Houses in Manhattan? Yes!  Townhouses, historical homes and classic brownstones will provide comfort and space.  Especially if you're travelling in a group.
• Laundry – As airlines continue to reduce the permitted size of suitcases and charge more for extra luggage, we are all packing less for our vacations.  Book a vacation rental with laundry facilities and you'll be able to make do with a smaller wardrobe.
If you require any of the extras mentioned, make sure you let your New York Habitat Agent know.  We'll find you the perfect vacation rental for your trip! New York Habitat has been renting furnished apartments and vacation rentals in New York since 1989 and has a lot of experience with furnished rentals and international clients.
You have a few options to contact us.  You can visit our website where you can fill out a request form and an agent will respond to you within 24 hours but often sooner. You can also e-mail inquiries to info@nyhabitat.com or call us directly at 212.255.8018 and be transferred to an agent who can help you directly.
If you know of any other advantages to booking a vacation rental over a hotel room, share your thoughts in the comments section below.
So with all of these advantages and extras shown in this video,  why not  book a vacation rental in New York.