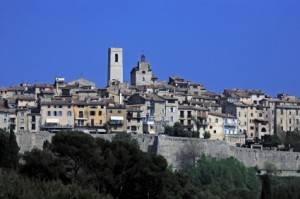 Photo of Saint Paul de Vence
If you're looking for a vacation destination mixing intellectual stimulation, athletic activities and natural beauty, the winning duo of Saint-Paul (de Vence) and Vence is it. Although Saint-Paul has been a household name for decades now, lesser known but equally charming Vence is a worth a detour as well. Ideally located between sea and mountains, a short drive from beautiful Nice or Antibes, the two neighboring medieval towns owe most of their popularity to their continuous abundance of art venues and cultural events.
Accordingly, the prestigious Fondation Maeght in Saint-Paul is currently showing "Giacometti et Maeght 1946 – 1966", an exceptional retrospective of the Italian master's oeuvre featuring no less than 170 of his works.
For maybe less elevated but more fun perusing, these days the Saint-Paul Museum is presenting "Stone Alone in Saint-Paul", a wide assortment of photos by the late Rolling Stone Bill Wyman, whose talent obviously went way far beyond playing bass in the world's greatest rock and roll band.
In Vence, you can educate yourself with "1960 – 2010 Cinquante ans de l'École de Nice", organized by the Rétif Museum for the fiftieth anniversary of the famed local modern art movement.Less mainstream but just as intriguing, the "De Matisse à Barcelo – Collection Lambert en Avignon" exhibit at the Chateau Villeneuve – Fondation Émile Hughes takes a fairly exhaustive look at this life-long art lover's many treasures.
If you are more into exploring your immediate environment, you can do just that by hiking with the locals twice a week from Saint-Paul. Every Tuesday, "Sortie Nature & Terroir" will show you around the village for a couple of hours with discoveries and stories. Every Sunday, the "Cercle Saint-Paulois Randonnées" will take you on hikes while giving you precious insights on the area. Conveniently, some of those trails actually link both towns!
If all this nature bonding has made you thirsty, why not attend a wine tasting at one of the three vineyards around Saint-Paul? M. Giraudo will take you around his property before having you sample his fare, La Petite Cave de Saint-Paul will welcome you in an authentic 15th century wine cellar and enlighten you about some of the region's rarest wines, and the Domaine Saint Joseph in nearby Tourettes sur Loup will treat you to some local food in addition to the libations.
No visit to Saint-Paul de Vence is complete without a stop at La Colombe d'Or hotel and restaurant where many famous and less famous personalities have leisurely passed the time since the 1920s. The priceless art works on the walls by regulars such as Picasso or Matisse more than hold their own against the picturesque setting.If you would like to stay in a lovely place, we have several vacation rental apartments in the French Riviera.
You can join the impressive list of visitors by staying nearby in our 2 Bedroom Rental in Vence, French Riviera (PR-356), right on the outskirts of town. As part of a villa with a view, your new dwelling comes with a large private terrace equipped with garden furniture and a gas BBQ.
Not to be outdone, Vence boasts its own not-to-be-missed masterpiece in Matisse's Chapelle du Rosaire. For the first time ever, a painter was totally in charge of his creation, from architecture to vestments, and the result is all-around unique.
To be able to visit and marvel at it on your own time, NY Habitat has a 2-bedroom furnished rental – Vence (PR-335) right outside of town from where you can easily come and go.
You cannot go wrong with either town. Which one would you prefer? Please comment below.