For some people vacation means relaxing on a beach or watching historical monuments from a tour bus, but for others it is synonym of actively exploring new locations and taking part in local life. If you belong to the second category and have always been intrigued by the South of France, it is not too late to plan a hands-on visit by signing up for the annual ritual of the "vendanges", or grape harvest, that takes place every year from the end of August through September.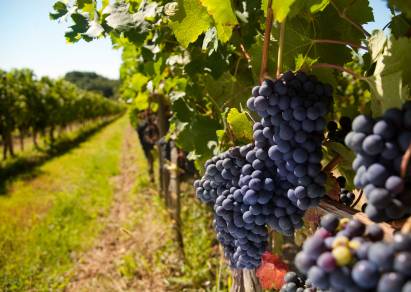 Grape Vines in the South of France
The
three major requirements are being legal, in shape and with transportation
. A "contrat vendanges", or "harvest contract", typically lasts from 8 to 15 days and gives you the privilege of strenuously toiling in all weather conditions for 35 to 39 hours per week for minimum wage. What's not to love? Moreover, you will not only harvest some of the world's most prized grapes, but also make new like-minded friends from all over the world. If the actual activity still does not appeal to you, you can always attend some local celebrations of that time-honored French tradition without any physical harm.
Although the options are truly endless, the most prestigious addresses remain in Provence. A good starting point for a tour of the area is the town of Aix-en-Provence, which boasts many attractions of its own in addition to the surrounding wine-producing estates. There, you'll be able to visit châteaux and vineyards where the famous red and rosé wines of the "Coteaux d'Aix" are produced. If you have a passion for the culture of wine, we have a vacation rental in the South of France for you.
If you think you'd enjoy a 3rd-floor walk-up in an old townhouse, you cannot do better than this 1-bedroom furnished rental – Aix-en-Provence (207) right downtown.
Further south, the little seaside town of Cassis is as well-known for its majestic Calanques as for its incredible wines. Blessed with the perfect micro-climate, 12 domains have been cultivating and producing luscious libations since the ancient times, and most of them will be delighted to have you over for an impromptu tasting.
Looking for something smaller? Our 1-bedroom furnished rental – Marseille (441) with a sweeping view from the 5h floor will meet your needs.
If you go east from Cassis, you will soon end up in Bandol, another lovely resort between sea and mountains. Here, all types of wines – red, white and rosé – are available and with 49 vineyards to choose from, there's never a dull moment!
If you need a break from all that wine tasting hopping, you can stay in the equally charming harbor town of Sanary-sur-mer in our slick black and white 1-bedroom furnished rental – Sanary (857).
Have you ever been in the South of France during harvest time? Does it sound tempting to you?