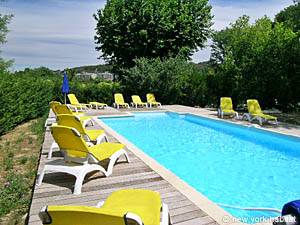 As we continue our journey around the Southern France we have chosen Aix-en-Provence as #3 in the count down of the Top Towns to Visit South of France.
Once the capital of Provence, Aix-en-Provence has maintained the majesty and style that comes with being an economic and cultural center. Cours Mirabeau is the center of this charming town. This tree-lined avenue is the perfect place to take a scenic stroll or to watch passersby from one of the many cafés.
Home to several art schools and universities Aix-en-Provence has become the site of several annual festivals such as the International Festival of Lyric Arts and Music and The Dance Festival.
Of note are the fountains and architecture of the town. Aix-en-Provence is often referred to as the city of a thousand fountains. The town is known for its many ornate and flowered squares and beautiful fountains.
New York Habitat has many available accommodations in the architecturally magnificent town of Aix-en-Provence:
· Studio apartment near Aix-en-Provence (PR-662) with access to a pool
· One-bedroom apartment rental in Aix-en-Provence (PR-1027) right in the historic center
To recap the winners so far here are #5 and #4 again:
The countdown is getting closer and closer to the coveted #1 spot. Check back to the New York Habitat Blog next week to find out the town featured as the #2 town in the South of France.