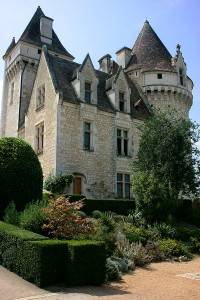 Photo of Château des Milandes, Dordogne, France. Former home of Josephine Baker
Paris is a city that knows its history, as every age leaves its mark on the City of Light. Discover the gorgeous art deco left behind by the Jazz Age—and in particular the traces left by the first international superstar, Josephine Baker.
African American expatriate, entertainer, spy and activist, Josephine Baker exemplified the glamour of the Jazz Age. She debuted in the Revue Nègre (The Black Review) at Théâtre des Champs-Élysées on avenue Montaigne, in the 8th arrondissement.  This elegant art deco building is adorned with bas-relief sculptures of Apollo and the nine muses.  Stand before the white marble façade, and you can easily call up the image of Josephine Baker making her grand entrance with her pet cheetah Chiquita by her side.  The magic of Josephine's sensual dance, as well as her humor, still permeates the sumptuous red and gold interior of the theatre.  Let the sounds of the symphony surround you at Théâtre des Champs-Élysées for an evening you will never forget.
A trek to the Folies Bergère in the 9th arrondissement will further your love affair with Josephine.  It was here that she performed the famed Danse Sauvage wearing a skirt made of bananas—just another example of her mixture of comedy and sensuality.  The art deco façade of Folies Bergère is world-renowned, and you cannot miss Maurice Picauld's famous bas-relief of the dancer Lila Nikolska adorning the front of the building. Enter the grand foyer decorated in turquoise and gold with giant candelabras clinging to the walls and gilt rearing carousel horses, and you will have no trouble imagining Josephine Baker greeting her adoring fans after changing out of her bananas.  Take in a show at Folies Bergère for an old-fashioned spectacle of comedy and music.
Paris has honored its adopted daughter with two namesakes.  In Montparnasse, Place Josephine Baker is a shady square where you can sit at a café and watch the bohemian world pass by.  Directly on the Seine, at Quai Francois Mauriac in the 13th arrondissement, is a floating swimming pool, Piscine Josephine Baker.  This glass-walled marvel has a retractable roof and is available for a dip year round.  Soak up some sun on the deck and enjoy the future-retro look of Josephine's very own swimming pool.
Come enjoy the jazzy feel of Paris!  New York Habitat has apartments available in the 8th arrondissement, close to Théâtre des Champs-Élysées, as well as vacation rentals in the 9th arrondissement, by the Folies Bergère.  Lease one of these Paris vacation rentals and you'll be doing the Charleston before you know it.  Check out these apartments to get you started:
This bright and fun 1 Bedroom Vacation Rental – Opera – Le Louvre – Paris (PA-4043) features a black and white checkerboard kitchen floor, colorful murals, and leafy terrace.  Not far from Folies Bergère, kick back in this artsy pied-a-terre and feel like an international performer!
This cozy 1 Bedroom Vacation Rental – Champs Elysees – Paris (PA-3448) will put you close to Théâtre des Champs-Élysées.  The apartment features built-in closets, light filled rooms and a Murphy bed to remind you of way back when.
Who is your favorite Parisian performer?