Self Portrait of Manet on a stamp
In the 19th century, Edouard Manet shocked the art world with his uninhibited and frank portrayals of modern scenes.  He is credited with ushering in the age of modern art—and with helping the transition from Realism to Impressionism.
Manet's controversial paintings and revolutionary ideas are the basis for the Musée d'Orsay's retrospective: Manet, the Man Who Invented Modernity.
In addition to Manet's masterworks of Le déjeuner sur l'herbe, the famous scene of two men lunching with a nude woman, and Olympia, an unabashed portrait of a lady of the night in her bedroom, this exhibit will showcase the master's influences and relationships.  Manet was a man who took his art very seriously, knowing that he could change the world with it.
Located in the 7th arrondissement of Paris, the Musée d'Orsay will allow you to see, side-by-side, how others influenced his choices of subject, style and execution.
There could be no better showcase for Manet's works than the former train station turned museum.  This gem of Beaux-Arts architecture, featuring soaring skylights, bas-relief marble sculptures and the original clock that ensured trains would run on time, is worth a visit in and of itself.  With its unparalleled collection of Impressionist paintings and a focus on educating visitors about art of the 19th century, the d'Orsay is the perfect Parisian day trip for art-lovers and novices to the art scene.  You will leave the Manet retrospective feeling creative and energized, knowing that the arts can change the way you see the world, even 150 years later.  Perhaps you'll buy a sketchbook and pen in the gift shop so you can practice jotting down your own vision of Paris.
The Manet exhibit runs until early July, so there is plenty of time to book a vacation rental in the 7th arrondissement of Paris through New York Habitat.  Are you ready to see the world through Manet's eyes this season?  Check out these apartments in the 7th arrondissement, all within easy walking distance of the Musée d'Orsay, to start your search: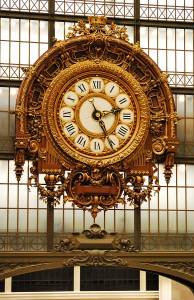 Clock at the Musee d Orsay
Perfect for the traveling artist!  This
Studio Vacation Rental – Auteuil – Tour Eiffel – Paris (PA-3720)
has a warm and cheery vibe, with lots of natural light, an incredible view of the Eiffel Tower, and a beautiful and modern bathroom.  Be sure to spend some time dreaming beside the bright windows.
Charming and fun, this 1 Bedroom Vacation Rental – St Michel – St Germain – Notre Dame – Paris (PA-3135) is located in the Latin Quarter, just steps from the Musée d'Orsay.  Featuring exposed roof beams, gorgeous hardwood floors, and quirky built-ins that take advantage of every nook and cranny, this apartment will be the perfect pied-a-terre for your trip to Paris.
Art lovers will adore this 2 Bedroom Vacation Rental – Auteuil – Tour Eiffel – Paris (PA-2278) Parquet floors, a baby grand piano, a wall of built-in bookshelves, and wonderfully eclectic furniture work together to make an apartment it might be hard to leave so you can sightsee!
Tell us your favorite work by Manet in the comments section below.