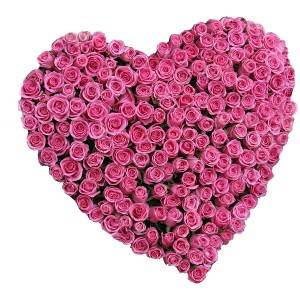 Valentines Day
One of the most romantic civilizations in the world, you'd think that the French hold a special place in their hearts for Valentine's Day.  And sure enough, even if the occasion does not bring about a spectacular explosion of pink knick knacks and cute teddy bears, the day is still celebrated with all kinds of festivities.
The scopes of the celebrations vary widely, but if you had to pick one this year, it would have to be the "Festival of the Kiss" (La Festo de Poutoun) in the lovely medieval town of Roquemaure, in Provence, also known as "The Capital of Lovers", from February 10 through 12. During those three days, several events will take place such as a commemoration of the arrival of Saint Valentine's mortal remains in 1868 with more than 800 costumed people, horse-drawn carriages and horsemen forming a parade that will go through a town immersed in the 19th century with its shops, post office, open air market, gazebo, merry-go-round and, of course, Lovers' Fountain, meticulously decorated as they were back then.
Moreover, the streets will temporarily acquire the names of French literature's most famous lovers while traditional entertainment from folk groups to street performers will spring up at various locations. The highlight of the whole weekend may very well be the "Festival of the Handles of Love" (Le Festival des Manivelles de l'Amour), where everybody can hum along beautiful love songs to the sound of old-fashioned barrel organs. Needless to say that you'll also get to sample many local delicacies that are well worth the visit all by themselves.
When it comes to accommodations, New York Habitat has plenty of fully furnished vacation rentals in Avignon, a mere 15 kilometers away. Boasting the stunning Palace of the Popes and other unique historic sites, it is yet another reason to stop in the area.
The perfect home away from home, our 2-bedroom – Avignon Historic Center – PR 969 has a modern look and plenty of light. A second floor walk-up, it is right in the historic center and near all the amenities.
If you're looking for a smaller space, our 1-bedroom – Avignon Center – PR 1030 offers a sleek, black-white-red contemporary design in a 17th century building. You will be able to soak up the sun and enjoy a nice view over the surrounding rooftops from the small private terrace.
Another 1-bedroom – Avignon Center – PR 617 is available right in the center of town. The kitchen is fully equipped with modern appliances and may bring out the French chef in you, but if you prefer to skip cooking duties, you'll find plenty of restaurants right there. A large terrace will allow you to enjoy a wonderful view over the neighborhood and a refreshing shower as well!
If you're looking for a larger space, our comfortable 3-bedroom – Avignon Historic Center – PR 1044 in an 18th century mansion near the Palace of the Popes will meet your every need.
Have you ever explored the region and would care to share your impressions below?